Germany sees next step on fighter jet replacement by end of year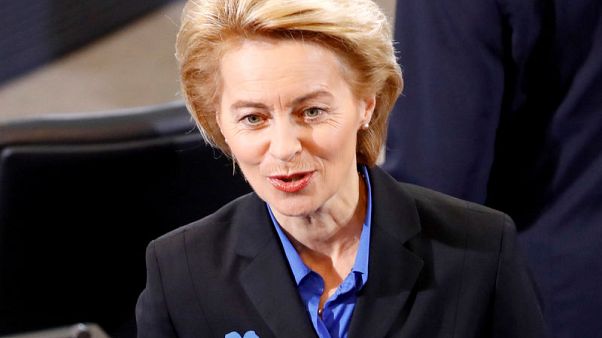 -
By Andrea Shalal
BERLIN (Reuters) – The German defence ministry expects to announce next steps by the end of the year in its drive to replace 85 ageing Tornado fighter jets that will cost billions of euros.
"There will be a decision this year," a ministry spokesman said, citing a pledge in July by Defence Minister Ursula von der Leyen to move ahead with the programme in 2018. The spokesman gave no further details on what the decision would entail.
Sources familiar with the process said the ministry was likely to narrow the field of potential replacement jets from four to two — the Eurofighter Typhoon built by Airbus, Britain's BAE Systems and Italy's Leonardo SpA and most likely, the Lockheed Martin F-35.
Von der Leyen favours a European solution, but the ministry also reviewed data submitted by the U.S. government on the F-35, and the F-15 and F/A-18E/F jets, both built by Boeing.
Several options were on the table, including buying one type of jet to replace the Tornado jets, a split buy of two aircraft types, and extending the life of the Tornados.
However the ministry in August asked potential bidders if they could deliver new warplanes before the initial target date of 2025, a move sources said reflected growing concerns about the cost of keeping the Tornados flying longer.
NUCLEARCAPABILITY
A key factor will be the ability of the new jets to carry and deliver nuclear bombs. Germany is not a nuclear power, but hosts some U.S. nuclear warheads under NATO's nuclear-sharing policy and operates a number of Tornados that can deliver them.
One proposal calls for Germany to buy 45 Lockheed F-35 jets to replace those Tornados, and about 75 new Eurofighters to replace both the other Tornados and a first batch of Eurofighters delivered between 2003 and 2008, sources said.
Buying F-35s would allow Germany to keep a mixed fleet of fighter jets, a requirement in its military strategy, while averting costly modifications to the Eurofighter.
Two of the sources said Germany had not yet commissioned a mandatory U.S. study of the certification issue, which could take 12 to 18 months to complete. Achieving certification for the Eurofighter could ultimately cost over 700 million euros and take well over seven years, they added.
(Reporting by Andrea Shalal; Editing by Keith Weir)
euronews provides breaking news articles from reuters as a service to its readers, but does not edit the articles it publishes. Articles appear on euronews.com for a limited time.