Strongman Eddie Hall recalls 500kg deadlift: "I woke up in a massive pool of blood"
Comments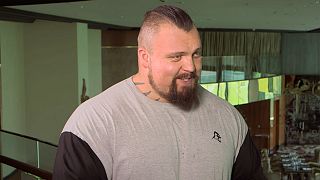 As the World's Ultimate Strongman 2018 competition was held in Dubai, last year's World's Strongest Man, Eddie Hall, was on the ground to oversee proceedings.
In 2016, Hall became a world record holder for being the first man to deadlift 500kg. The impressive feat took a serious physical toll, he tells Euronews.
"I woke up in a massive pool of blood," he recalls. "I had blood coming out of my nose, my tear ducts, my ears."
Hall goes on to say that he remembers paramedics having to race to the scene to assist him. The athlete's doctors told him that blood vessels in his brain had burst during the lift.
"My heart rate was through the roof, my blood pressure was unreadable," he says. "I couldn't see, I lost my vision for a few hours and for about two weeks I forgot my kids' names".
Footage from 2016 shows the moment Eddie Hall became the first man to ever deadlift 500kg
The inaugural World's Ultimate Strongman championship in Dubai was won by Game of Thrones star, Hafthor Bjornsson.
Druring strongman events, rivalry is commonplace. Hall, who has vyed for professional titles alongside 'The Mountain' for many years, gives his take on the widely reported competition between the two of them.
"You know, I respect Thor," he says, "I respect that he's a great strong man, I respect that he won the World's Strongest Man. It's just that's not replicated back some times."