Watch again: Trump lauds 'tremendous success' following mixed US midterm results
Comments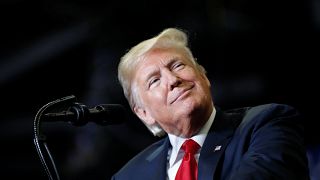 Copyright

REUTERS/Carlos Barria
US President Donald Trump spoke from the White House after his Republican party held on to the Senate but lost control of the House of Representatives in the midterm elections.
Despite losing the House to Democrats, Trump called the election a "tremendous success".
Republicans "defied history" in spite of dramatic fundraising disadvantage, he said in his opening comments.
He also compared his result to Obama's first midterm election after taking office, in which he said the ex-president lost six Senate seats, including in the traditionally "blue" state of Massachusets.
On the governor's race in Georgia and Oprah
Trump also highlighted a "slew of historic wins in the governors' races", singling out Georgia where Oprah Winfrey campaigned with Stacey Abrams, the Democratic candidate for governor, and lost narrowly to Brian Kemp, her Republican counterpart.
"I have a lot of respect for her (Oprah)," he said, "but unfortunately she didn't do the trick."
On the Democrats
Of the opposition, Trump said: "I don't agree with them (Democrats) on policy, but I do agree on them sticking together."
As his speech drew to a close, the president said his loss in the House opened a "much easier path" and invited a "beautiful bipartisan type of situation".
"It really could be a beautiful bipartisan type of situation," Trump says. "We have a lot of things in common on infrastructure... health care. There are a lot of great things we could do together."
When a journalist asked if he thought he would be subpoenaed, Trump replied that if this happened "then we're going to do the same thing, and government comes to a halt, and I would blame them."
Trump vs the media
During the press' questions after his speech, Trump's turbulent relationship with some media outlets was evident.
When Jim Acosta from CNN tried to follow up on a question about Russia, Trump replied: "CNN should be ashamed of itself having you working for them. You are a very rude .. person.. the way you treat Sarah Huckabee is..."
After a war of words between the journalist and president, Trump said CNN was fake news and, as such, an enemy of the people.
At one point Trump yelled at reporters to "sit down".
What does the midterm result mean?
The Democrats' majority in the US House of Representatives was their first in eight years.
It means the Trump presidency — which already had no free rein despite a Republican-led chamber — will face a significant challenge, setting the tone over the remaining two years.
Democrats will gain control of all the influential House committees, which, until now, had been in the hands of Republicans.
They will effectively have control of the federal budget, and can block Donald Trump's legislative plans. The Democrats can, for instance, block funds for the president's border wall project with Mexico, and stop any further tax-cut package.
Watch the full press conference in the player above.