Islamist party in Pakistan prevents Christian woman from fleeing
Comments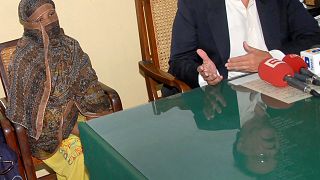 One of Pakistan's Islamist parties has said it will call off the protests it was planning after a Christian woman was found not guilty on appeal on Wednesday of committing blasphemy.
In return the government will try to stop Asia Bibi, who has been on death row since 2010, from leaving the country.
The TLP party was going to hold three days of protests in major cities.
Islamist parties have portrayed Bibi's release as the government caving into Western demands.
She'd been accused of making derogatory remarks about Islam after neighbours objected to her drinking water from their glass because she was not Muslim.
TLP leaders have now called for the three judges who found her innocent to be killed.
Her case has outraged Christians worldwide.
Two politicians who tried to help her have also been assassinated.
It's not known where Bibi is now - her lawyer has fled the country and her family remain in hiding
There's been much speculation that she will be secretly sent out of the country by the authorities.