Muslim cleric known as 'Father of the Taliban' killed in Pakistan
Comments
By Mushtaq Yusufzai and Ethan Sacks with NBC News World News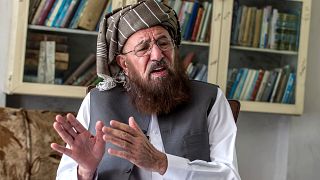 -
PESHAWAR, Pakistan — The Muslim cleric who was dubbed the "Father of Taliban" because of his close ties to the leaders of the terrorist group was killed Friday in the Pakistan, two family members told NBC News.
The bloodied body of Maulana Samiul Haq was discovered in his home in the city of Rawalpindi, though accounts differed as to whether he was shot or stabbed to death.
"It's seems to be an organized attack as they knew that Maulana Samiul Haq was alone in the house," said Mohammad Bilal, a nephew, who added that the murder had occurred during a window when his uncle's bodyguard had briefly left his post.
"We don't know about the number of assailants at the moment but from the body of my uncle seems that they had severely tortured him before taking his life."
As leader and administrator of Darul Uloom Haqqania University, Haq is credited with producing thousands of future adherents for the Taliban.
Among his many students in the 1980s was Mullah Mohammed Omar, who seized the opportunity after the Soviet withdrawal from Afghanistan to found the Taliban movement at the end of that decade. Haq had regularly called Omar one of his best students.
"They are my students. In our tradition, a teacher is like a father, like a spiritual leader," Haq told Reuters in 2013. "Afghans should be allowed to fight for their freedom. Foreign powers should get out and let them do what they want."
Haq maintained great influence over the Taliban, and was courted by Afghanistan's ambassador to Pakistan, Omar Zakhiwal, in an ongoing attempt to kickstart peace talks with the group.
Maulana Hamidul Haq, the cleric's eldest son, told NBC News that his father had not received any threats prior to the attack.
On Friday, hundreds of mourners, including madrassa students, took to the streets to protest Haq's killing. The murder comes at a time when tensions in the hardline Islamic community in Pakistan are already high over the decision by the nation's Supreme Court to acquit Asia Bibi,a Christian woman who had been sentenced to death on blasphemy charges.
Mushtaq Yusufzai reported from Peshawar, Ethan Sacks reported from New York.