Venice streets under water in worst flooding in a decade amid deadly storms
Comments
By Kalhan Rosenblatt with NBC News World News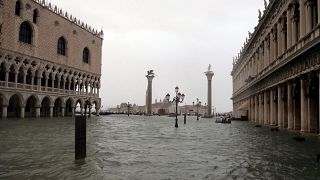 After days of ferocious winds and rain, the city of Venice was under water and at least 10 people were killed throughout Italy.Approximately 70 percent of Venice was under water by Monday, according to officials, forcing residents to trudge through knee- and waist-high water in some areas. The high tide hit a maximum of just over five feet above sea level in the early afternoon on Monday — the fourth highest level ever recorded and the single highest since 2008, local authorities said.The high tide was attributed to strong winds from the storm, which on Sunday gave runners in the Venice Marathon an additional obstacle to overcome.The marathon starts inland near the city of Padua, according to Runners World. After approximately 20 miles, the runners hit Venice, which is where they then encountered the flooding.
One Paralympic participant was seen to pushing his wheelchair through the rising water toward the finish line.Police in Venice tweetedthat some tourists became stranded and needed rescuing on Monday due to the floodwater."It was the perfect storm during which adverse meteorological conditions contributed to the situation in the sea and winds," Civil Protection Chief Angelo Borrelli said.While in much of the flooding in Venice left residents inconvenienced, in other parts of Italy, the rain proved deadly."The exceptional wave of bad weather leaves us with a dramatic toll: nine dead, four serious injuries and one person missing," said Interior Minister Matteo Salvini.News
A woman was killed in the northern region of Trentino-Alto Adige after she was buried in mud after a landslide rushed her home and a firefighter was struck by a tree while responding to the emergency, according to the Associated Press. Other deaths were caused by falling trees, according to the AP.Another man was slammed against rocks while wind-surfing in Emilia-Romagna.Others were killed in Naples, Liguria and Lazio.Authorities urged locals to stay home unless absolutely necessary and schools were shuttered as the storm swept through the country, according to Reuters.