Woman blows herself up in central Tunis, 80 wounded: Interior Ministry
Comments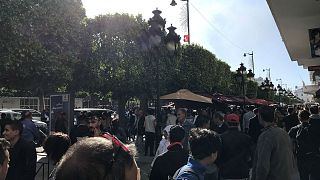 A woman, 30, blew herself up in the centre of the Tunisian capital Tunis on Monday, police on the scene told Euronews' Paris correspondent Anelise Borges.
At least 80 people sustained injuries of varying severities and were taken to hospital, including police and civilians, the Tunisian Interior Ministry said in a statement. There were no fatalities.
Eight of those hurt in the explosion were police officers.
The perpetrator, who was not known to authorities for extremism, was killed on the spot, the ministry added.
A witness reported an explosion on the central Habib Bourguiba Avenue where police were cordoning off the area near the capital's landmark Municipal Theatre.
"I was in front of the theatre and heard a huge explosion," witness Mohamed Ekbal bin Rajib told Reuters.
The EU's ambassador to Tunisia, Patrice Bergamini, expressed his support to security forces after the attack.
Tunisia, which is heavily dependent on tourism, has improved security since a series of militant attacks targeting tourists caused the near collapse of the sector three years ago.