Synagogue massacre suspect in court; Trump to visit grieving Pittsburgh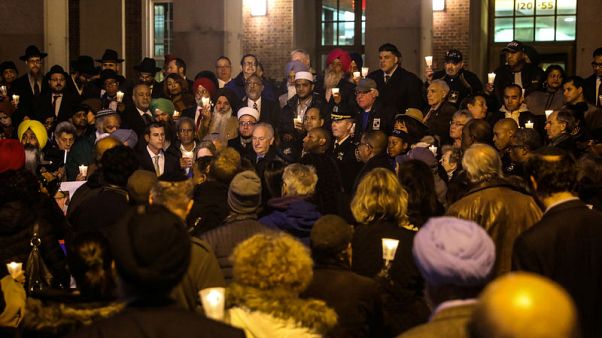 -
By Chriss Swaney and Jessica Resnick-Ault
PITTSBURGH (Reuters) – Shackled to a wheelchair, the man accused of shooting 11 worshippers to death at a Pittsburgh synagogue made a stony-faced and largely silent appearance on Monday in a federal courtroom, where he was ordered held without bond for the deadliest attack ever on America's Jewish community.
Robert Bowers, 46, wounded in a gunfight with police on Saturday at the Tree of Life synagogue before his arrest, acknowledged the 29 charges against him, including violation of U.S. civil rights laws in what federal prosecutors are treating as a hate crime.
If convicted, he could face the death penalty.
The judge ordered Bowers, who has a history of posting anti-Semitic material online, held in a federal detention centre and assigned a court-appointed defence attorney. His next hearing was set for Thursday.
The synagogue massacre has heightened debate over the rhetoric U.S. President Donald Trump uses, with critics saying it has fostered a climate of political hostility and encouraged right-wing extremism.
The president and first lady planned to travel on Tuesday to Pennsylvania to "express the support of the American people and grieve with the Pittsburgh community," White House press secretary Sarah Sanders said at a briefing.
The Trump administration has rejected the notion that he has encouraged white nationalists and neo-Nazis who have embraced him, but a group of Jewish leaders told Trump in an open letter on Monday that he was "not welcome in Pittsburgh until you fully denounce white nationalism."
Tree of Life Rabbi Jeffrey Myers, however, said on ABC on Monday that the president of the United States is always welcome to visit.
TOXICELECTIONCAMPAIGN
Trump's visit will take place just a week before the hotly contested Nov. 6 congressional elections, which will determine if Trump's Republicans keep a majority in Congress. His appearance in Pittsburgh also will coincide with the first funerals for some of the slain worshippers.
Myers and other speakers at a memorial service on Sunday night for victims of the synagogue shooting used the occasion to decry a rise in toxic political discourse widely seen as conducive to violence.
Trump previously drew condemnation from Democrats and Republicans alike for saying that "many sides" were to blame for violence that erupted last year during a "Unite the Right" rally in Charlottesville, Virginia, and during a torch-lit march the night before by hundreds of right-wing demonstrators chanting "white lives matter" and "Jews will not replace us."
Bowers is accused of storming into the Tree of Life temple in Squirrel Hill, a neighbourhood that is the heart of Pittsburgh's close-knit Jewish community, yelling, "All Jews must die" as he opened fire on members of three congregations holding Sabbath prayer services there on Saturday morning.
In addition to the 11 mostly elderly worshippers who were killed, six people, including four police officers who confronted the gunman, were wounded before the suspect surrendered. Two of the surviving victims remained hospitalized in critical condition.
"Robert Bowers murdered 11 people who were exercising their religious beliefs," U.S. Attorney Scott Brady said after the arraignment, adding that a grand jury would hear details of the crime within 30 days.
TEAM OF SHARPSHOOTERS
Bowers' arraignment was marked by a heavy security presence that included police officers with dogs and a team of sharpshooters at the federal court in Pittsburgh.
Wearing a blue sweatshirt, grey sweatpants, sandals and white socks, with a crewcut and bald spot, Bowers remained expressionless throughout the short hearing.
Bowers said nothing during the proceedings except to give his name, acknowledge he understood the charges against him and that he lacked funds to pay for an attorney. He spoke in a calm voice and signed the papers handed to him with a steady hand.
Only at the end of the hearing when he was wheeled out of the courtroom did Bowers appear unsettled, turning his head in apparent confusion.
According to an affidavit filed in the case by the Federal Bureau of Investigation, three handguns and an AR-15 rifle were recovered at the scene.
The complaint quoted Bowers as saying to one law enforcement officer, in substance, "They're committing genocide to my people." He was also quoted as saying, "I just want to kill Jews."
(Reporting by Jessica Resnick-Ault; Writing by Steve Gorman and Nick Zieminski; Editing by Bill Tarrant and Cynthia Osterman)
euronews provides breaking news articles from reuters as a service to its readers, but does not edit the articles it publishes. Articles appear on euronews.com for a limited time.