Gymnastics - Biles leads world championships qualifying despite kidney stone
Comments
By Reuters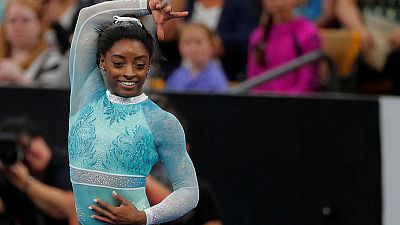 -
(Reuters) – Olympic champion Simone Biles soared to the top of all-around qualifying at the world gymnastics championships on Saturday just hours after visiting a Doha emergency room for kidney stone problems.
Aiming for her fourth world all-around title, Biles piled up 60.965 points and even had a vault, 'The Biles', named after her, USA Gymnastics said.
As she had insisted in a tweet on Friday, the kidney stone problem, which kept her in the emergency room for several hours less than 24 hours before she competed, was no showstopper.
The American was not only first in the all-around but also vault, beam and floor qualifying and second in uneven bars through five of the qualifying groups.
"This kidney stone can wait… doing it for my team! …I'll be gucci girls!" she said on Twitter on Friday, adding pictures of herself in ER.
She was later released from the hospital, still bearing the kidney stone which she has named the "Doha pearl."
"I heard roller-coasters may help kidney stones and I am basically my own little roller-coaster out there," Biles said after competing on Saturday.
The winner of four gold medals and a bronze at the 2016 Rio Olympics, Biles had taken 2017 off before successfully returning to competition earlier this year.
Her performance and that of team mate Morgan Hurd put the United States in first place in qualifying, well ahead of Japan.
(Reporting by Gene Cherry in Wilson, North Carolina; editing by Ken Ferris)