Will we ever know who won Mega 'Billion' in South Carolina?
Comments
By David K. Li with NBC News U.S. News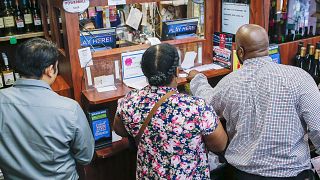 Copyright

Erik S. Lesser EPA

-
The lone winner of Tuesday night's Mega MIllions draw may never been known.
That's because the lucky bettor purchased his or her life-altering ticket in South Carolina, one of a handful of states where winners have the option of remaining anonymous.
Delaware, Kansas, Georgia, Texas, Maryland, North Dakota and Ohio are among other places where winners can laugh all the way to the bank in complete anonymity.
"I think it's a good idea to allow people to have that option," said Nelson Rose, professor emeritus at Whittier College Law School in California, who specializes in gaming regulations.
Rose noted that winning lottery players have areasonable request to stay out of the limelight.
"The reasons that people want to be anonymous is that they are otherwise inundated with requests for money," he told NBC News on Wednesday. "A lot of winners have to move because there are just so many requests for money coming from, not just family and friends, but everyone."
By mid-afternoon, the South Carolina winner still hadn't stepped forward.
The winning ticket was purchased at a KC Mart #7 inSimpsonville, South Carolina, just outside of Greenville. He or she has 180 days to claim the $1.537 billion prize — and decide whether to remain anonymous.
The question of allowing lottery winners to stay nameless is an ongoing issue.
A Jane Doe in New Hampshire filed suit earlier this year against the Granite State earlier this year, demanding that her name be kept under wraps. In March,the court ruled in favor of that $560 million Powerball winner.
News
The state, however, said Jane Doe's successful lawsuit only covered her. New Hampshire Lottery marketing director Maura McCann said her agency will keep naming prize winners until a court says otherwise.
"It matches the integrity we have here at the New Hampshire Lottery," McCann said Wednesday. "We are a government entity. We are a transparent government entity. It's important for the public to know who won a prize whether it's for $500, $5,000 or half-million dollars."
New York State Gaming Commission spokesman Bad Maione also said secret winners would hurt confidence in lottery games.
"There's a lot of skeptics, especially these days," he said. "Each state makes its own determination on public disclosure but this practice (of naming winners) is accepted pretty much industry-wide."
Rose said he wouldn't be surprised if states — which administer lotteries like Mega Millions and Powerball individually — move en masse one way or another to make rules uniform countrywide in coming years.
He said nearly all states once paid their big winners through annuities lasting 20 or 30 years. That was until players — many of them senior citizens — started suing individual lottery commissions in the 1980s.
Now lump sum payment are practically the only way lottery winners choose to get paid.
"It'll be better to have these changes made by the individual state legislatures rather than expensive fights in the courts," Rose said.
Anonymous or not, the South Carolina winner has the option to take a cash sum of $904 million or an annuity, walking away with an initial payment followed by annual installments over 29 years.