EU leaders seek stronger euro zone as Italy challenges rules
Comments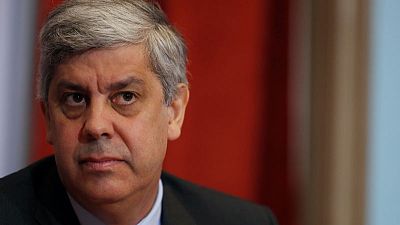 -
By Jan Strupczewski
BRUSSELS (Reuters) – European Union leaders will discuss on Thursday how to make the euro zone more resilient to crises, with the bloc's third biggest economy, Italy, putting new urgency into the talks by challenging EU budget rules that underpin the single currency.
Leaders of all EU countries except Britain are to take stock of progress in completing the euro zone's banking union and granting new powers to its ESM bailout fund as the 19 countries sharing the euro prepare for decisions to be taken in December.
"We are … looking for some guidance from leaders on topics like the fiscal capacity," Mario Centeno, the chairman of euro zone finance ministers, told reporters on entering the summit.
"I see growing interest in some member states in specific issues related to the fiscal capacity, for example the unemployment reinsurance system," he said.
The reforms under consideration so far are to ensure that the euro zone would have enough money in case of a major banking crisis to resolve failing banks and to prevent bank runs by setting up a euro zone-wide deposit guarantee scheme.
The ESM is to get new powers of regularly monitoring economies so that it could be ready at a moment's notice to step in with a full bailout programme of reforms in exchange for cheap loans if a sovereign were cut off from markets, possibly after managing a debt restructuring if necessary.
The fund is also to have the possibility of lending with minimal conditions to euro zone governments that have been conducting sound economic policy, but were hit by external crises not of their own making.
ITALYMAKESEUROZONEREFORMMOREDIFFICULT
But all these discussions, controversial from the start because they involve sharing financial risks, have now been made much more difficult by Italy, where a populist government wants to finance higher spending and lower taxes with more borrowing.
Italy has the second highest debt to GDP ratio in Europe and the highest debt servicing costs and because its economy grows slowly, officials are concerned that more debt could trigger another debt crisis like the one set of by Greece in 2010 that nearly destroyed the euro zone.
"I am absolutely aware that the atmosphere is more tricky than in June," the chairman of EU leaders Donald Tusk said this week when asked how Italy's fiscal plans would affect deeper euro zone integration agreed on at a summit in June.
"But I think we can use the time before December to clarify the position of some member states and our goal remains to have visible progress in December," Tusk said.
Privately, euro zone officials acknowledge that Rome's plans only strengthened the opposition from those sceptical about financial risk sharing.
"It is going to be more difficult now. At the moment when you talk about deposit insurance the appetite for it is smaller," one official involved in the talks said.
"Italy is now an additional argument not to even think about it. And Germany, the Netherlands who have always said it is not needed at all, of course they have now one argument more," he said.
Officials also worry that Italy may link its support for whatever ideas are in the end agreed in the euro zone integration process, with the EU's consent for its higher borrowing in the 2019 budget.
Under EU rules, highly indebted countries like Italy should cut their deficit and debt every year, but Rome argues that the higher borrowing would spur faster economic growth and debt would fall as percentage of GDP in the end.
The Commission rejects this, noting the resulting growth would have to be very high for the argument to hold and that borrowing more to reduce debt was not the way to go.
"If the confrontation intensifies, Italy can block any consensus at the summit. That is a real risk," one official said. "That would not be the end of Europe, but it would be disappointing because of all the work that has gone into this."
(Reporting By Jan Strupczewski; Editing by Robin Pomeroy)
euronews provides breaking news articles from reuters as a service to its readers, but does not edit the articles it publishes. Articles appear on euronews.com for a limited time.