Ecuador expels Venezuela ambassador after official says Moreno lied
Comments
By Reuters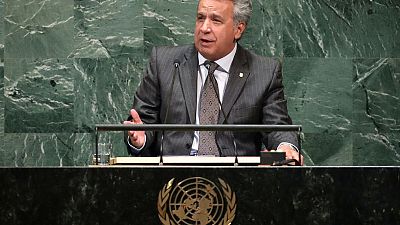 -
(Reuters) – Ecuador expelled Venezuela's ambassador to Quito on Thursday after a Venezuelan government minister called Ecuadorean President Lenin Moreno a liar.
In a Wednesday press conference, Venezuelan Communication Minister Jorge Rodriguez said Moreno was a "liar" and accused him of exaggerating in a speech at the United Nations the number of Venezuelan migrants arriving in Ecuador.
Saying the comments were offensive, Ecuador also called the charge d'affaires at its embassy in Caracas back for consultations, the foreign ministry said in a statement.
As many as 1.9 million Venezuelans have emigrated since 2015, according to the United Nations, fleeing an economic crisis that has resulted in shortages of food, medicine and other basic goods. That flow has overwhelmed other countries in the region, including Ecuador.
Venezuela's information ministry did not respond to a request for comment. Socialist President Nicolas Maduro has said no more than 600,000 Venezuelans left in the past two years, and state television gives daily coverage to a government programme offering migrants free flights back to Venezuela.
(Reporting by Javier López de Lérida; Writing by Luc Cohen; Editing by Cynthia Osterman)