EU's Tusk hopes euro zone reform progress possible despite Italy
Comments
By Reuters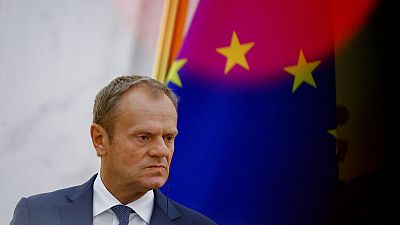 -
BRUSSELS (Reuters) – The chairman of European Union leaders Donald Tusk said he hoped EU governments can still make visible progress in reforming the single currency area by December despite a eurosceptic government in Italy that wants to break EU budget rules.
"I hope that positive progress is still possible and that is why I decided to organise the euro summit," Tusk told a news conference on Tuesday, referring to a meeting on Thursday in Brussels devoted to euro zone reform.
The populist government in Rome presented its draft budget for 2019 to the European Commission on Monday proposing a budget deficit of 2.4 percent of GDP, three times as high as the number agreed with the Commission by the previous Italian government.
The Commission has said such a draft budget plan would significantly depart from the agree fiscal path and is likely to send the draft back to Rome asking it to be revised.
At the same time the 19 countries sharing the euro want to integrate more deeply in economic terms, by giving more powers to their bailout fund ESM, setting up a euro zone budget and a euro zone-wide deposit insurance scheme.
The consent of Italy, the euro zone's third biggest economy, is necessary for the process to go forward. EU leaders have been aiming to find an agreement on the reforms in December.
"Of course we have to be realistic and frank. I am absolutely aware that the atmosphere is more tricky than in June, but I think we can use the time before December to clarify the position of some member states and our goal remains to have visible progress in December," Tusk said.
(Reporting By Jan Strupczewski)