Triathlon - Lange, Ryf set records with repeat wins at Ironman Triathlon
Comments
By Reuters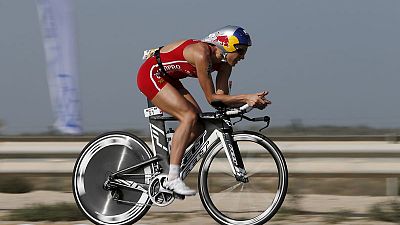 -
(Reuters) – Germany's Patrick Lange and Swiss Daniela Ryf delivered record-breaking performances to defend their titles at the triathlon Ironman World Championship in Hawaii on Saturday.
Lange was steady during the swim, cycle and run portions for a final time of 7 hours, 52 minutes and 39 seconds – easily dusting the previous mark of 8:01:40. Ryf, meanwhile, blazed a new course record of 8:26.16 on a day when competitors took full advantage of the ideal weather to set a record pace.
Australian Cameron Wurf, a pro cyclist, broke his own bike course record at Kona with a time of 4:09:06, better than the 4:12 he achieved last year. But Wurf fell from the top ultimately. Bart Aernouts was the men's runner-up at 7:56.41 and David McNamee finished third (8:01.09) followed by Tim O'Donnell (8:03.17) and Braden Currie (8:04.41).
Lange set up the victory this year with a swim-bike combination that was nine minutes faster than last year.
In the women's race, Ryf set up the triumph by smashing the women's bike record at Kona by 18 minutes.
Britain's Lucy Charles broke the swim record for the women before three-time defending champion Ryf took over for good.
Charles finished runner-up at 8:36:32 while Anne Haug was third at 8:41:52.
(Writing by Jahmal Corner in Los Angeles; editing by Amlan Chakraborty)