Open La Liga good for the game, says Pires
Comments
By Reuters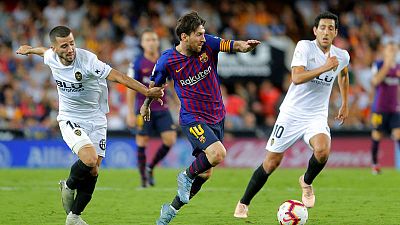 -
By Sudipto Ganguly
MUMBAI (Reuters) – The current La Liga season has been the most open in years and teams challenging the hegemony of Spanish giants Barcelona and Real Madrid will benefit soccer in the country, former France midfielder and World Cup winner Robert Pires has said.
While Spanish clubs have many of the world's leading players, including Argentina's Lionel Messi, La Liga has often been criticised for a lack of competition.
Barcelona and Real Madrid have won all but one league title between them in the last 14 seasons, with Atletico Madrid winning in the 2013-14 season.
But after eight games in the 2018-19 season, Pablo Machin's Sevilla lead Barcelona by one point at the top of the table with Real at fourth place, a further point adrift.
"I don't know why but this season is more competitive," Pires told Reuters in an interview. "When people talk about La Liga it's always Barcelona or Madrid but not for this season.
"It's little bit different. Teams Like Atletico Madrid, Sevilla and maybe Valencia, because they spent a lot of money and built a good team, they can beat or fight with Barcelona and Madrid.
"It's very good for football, it's more open."
La Liga lost a marquee player in Cristiano Ronaldo when Portugal's top scorer left Real to join Serie A club Juventus but former Arsenal player Pires, who also had a spell at Villarreal, said it was imperative for Spain to keep attracting top players to its league.
"La Liga has lots of good players like Luka Modric and the Spanish new generation like Isco, Asensio," said Pires, who was in India as an ambassador for La Liga at the launch of soccer schools in New Delhi. "The potential is very good.
"La Liga has Leo Messi and he's the best player in the world.
"But for La Liga it's very important to bring some very good players like French forward Ousmane Dembele (Barcelona)."
(Editing by Greg Stutchbury)