Isolated incidents of unrest as Cameroon goes to the polls
Comments
By Reuters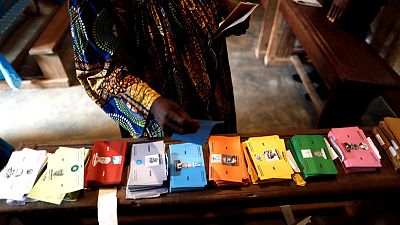 -
By Edward McAllister and Josiane Kouagheu
YAOUNDE/DOUALA, Cameroon (Reuters) – Cameroon saw isolated incidents of unrest in separatist Anglophone regions during voting on Sunday in an election widely expected to extend the rule of President Paul Biya, one of Africa's last multi-decade leaders.
Voting proceeded smoothly across much of the Central African country, but a drive by secessionists to disrupt the election meant not all polling stations were open in English-speaking regions, where voter turnout was low due to security fears.
The army said a regional official suffered a minor injury after his convoy was ambushed by rebels. A security source said at least three armed separatists were shot dead by security forces in the northwest English-speaking town of Bamenda.
The reports could not be independently verified and separatist leaders could not be reached for comment.
Biya, 85, has ruled for 36 years and victory on Sunday would give him a seventh term, bucking a tentative trend in Africa to install presidential term limits. The only current African president to have ruled longer is Equatorial Guinea's Teodoro Obiang Nguema Mbasogo.
In a speech after casting his vote in the capital Yaounde, Biya did not make specific reference to separatist violence.
"The election campaign took place peacefully," he said. "Now we must hope that they (Cameroon citizens) keep this self-control when the results are out."
Oil and cocoa producing Cameroon has seen economic growth of over 4 percent a year since Biya was last elected in 2011, but many of its 24 million citizens live in deep poverty.
A secessionist uprising in the Anglophone Northwest and Southwest regions, home to 5 million people, has cost hundreds of lives and forced thousands to flee either to the French-speaking regions or into neighbouring Nigeria.
In the English-speaking regional capital of Buea, military snipers kept watch from rooftops, part of the army's tight security regime for the election due to separatists' threat to stop the vote.
Two polling stations in Bueau visited by a Reuters witness were not operational as staff did not have sufficient electoral materials. Only a few voters were seen casting their ballots at other stations in the area and the streets were almost empty.
Biya did not visit the English-speaking regions during his campaign. A central problem of his rule has been his long bid to centralise a hugely diverse population in a country founded in 1961 on the promise of federalism and autonomy for its regions.
In 2016, protests by Anglophone lawyers and teachers against the marginalisation of minority English speakers in their professions led to a heavy-handed clampdown, in which unarmed civilians were shot dead. That radicalised many and armed groups formed in the lush forests of the west.
"WE NEEDYOUNGERPEOPLE TO RULE"
Some opposition parties have united in an effort to harness discontent about the country's crumbling infrastructure and about Biya, who they say has ruled Cameroon like a personal fiefdom for too long. The president goes years without convening cabinet meetings and spends long stretches out of the country with his wife Chantal, most often holidaying in Switzerland.
In 2011, Biya won with 78 percent of the vote in an election described by the U.S. Department of State as "marked by irregularities". The odds are still against the opposition, including the main candidate, Joshua Osih of the Social Democratic Front.
"I want change. Things are not moving at all. We want to be like other countries in Africa who have different presidents. We need development, we need younger people to rule," said Etien Ndzi, 31, after casting his vote in Yaounde.
Still, of the country's 24 million people, only 6.5 million were registered to vote as of Oct. 1, according to the election authority, reflecting resignation to a continuation of Biya's long rule. Polling stations were quiet even in the capital.
Government spokesman Issa Tchiroma Bakary said the government had put measures in place to ensure a smooth vote.
"It is not impossible that here and there they may be troublemakers. I am convinced that nationwide the vote will take place," he told journalists after he voted.
The African Union and other organisations are monitoring Sunday's vote, but opposition candidates have already complained of efforts to fix the election in Biya's favour.
(Reporting by Edward McAllisterAdditional reporting by Josiane Kouagheu in Douala and Blaise Eyong in Buea; Writing by Edward McAllister and Alessandra Prentice; Editing by Hugh Lawson and Susan Fenton)