Olympics - Ball now in Russia's court after RUSADA reinstatement-IOC
Comments
By Reuters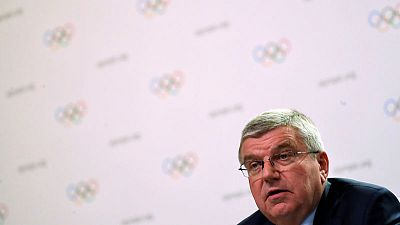 -
By Karolos Grohmann
BUENOSAIRES (Reuters) – The decision to reinstate the Russian anti-doping agency (RUSADA) last month has put the ball in Russia's court and the agency must now stick to agreed conditions to keep the ban lifted, IOC President Thomas Bach said on Thursday.
The World Anti-Doping Agency (WADA) on Sept. 20 lifted the ban on RUSADA amid vocal opposition from some athletes and anti-doping agencies as the Russian agency had not fulfilled criteria set out for reinstatement when it was banned three years ago.
RUSADA was suspended in November, 2015 after an independent WADA report carried out by Canadian lawyer Richard McLaren outlined evidence of massive state-backed, systematic doping and cover-ups in Russian sport, allegations which Moscow denied.
But WADA readmitted the Russian agency, saying failure to allow access to stored samples in the Moscow laboratory and refusal to recognise an International Olympic Committee report on Russia would lead to a renewed ban.
Those had also been the conditions set for lifting the ban in the first place.
"The ball is now in the court of Russia in order to keep the suspension lifted," Bach told reporters at a news conference on Thursday. "Now it is up to Russia to react."
ATHLETES' OPPOSITION
Bach said he noted the opposition of some athletes to the reinstatement but said democratic processes were followed throughout and the decision should be respected.
"That's normal in such a discussion. But we have to respect the democratic legitimacy of athletes' representatives who have been elected by their peers and are accountable there," he said.
Some athletes and anti-doping agencies and even a former WADA director general criticised the decision, saying Russia was essentially rewarded after ignoring previous conditions and having refused to allow access to the stored urine samples.
Former long-time WADA director David Howman said the decision was driven by money over principle.
The IOC had banned Russian athletes from competing under the country's flag at the Pyeongchang Winter Olympics in February but reinstated the Russian Olympic Committee days after the end of the Games.
Russia's track and field federation remains banned and athletes compete as neutrals, while dozens of Russian athletes have been handed doping bans since the scandal broke three years ago.
Bach said any doping bans on Russian athletes were not affected by the WADA decision to reinstate RUSADA.
"This (WADA) decision does not affect the ineligibility of any (Russian) athlete." Bach said. "It is about by who he is tested, or mainly tested."
(Reporting by Karolos Grohmann; Editing by Ken Ferris)