China slams Pence election meddling accusations as 'ridiculous'
Comments
By Saphora Smith and Carol E. Lee and Courtney Kube and Abigail Williams with NBC News World News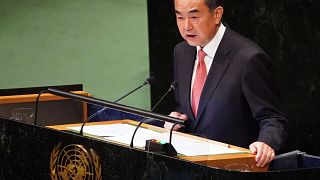 -
LONDON — China slammed allegations of political meddling in U.S. elections as "ridiculous" Friday and warned Washington against spreading "malicious slander."
The Chinese foreign ministry was responding to a speech made by Vice President Mike Pence Thursday in which he accused China of "meddling in America's democracy" to an extent that far surpasses Russia.
"To put it bluntly, President Trump's leadership is working; and China wants a different American President," Pence told a think tank in Washington.
Chinese foreign ministry spokesperson, Hua Chunying, dismissed the claims as "groundless" and warned the U.S. that "any malicious slander on China is futile."
"China always follows the principle of non-interference in others' internal affairs and we have no interest in meddling in U.S. internal affairs and elections," she said.
"It is very ridiculous for the U.S. side to stigmatize its normal exchanges and cooperation with China," she added.
Pence's speech was intended to lay down a marker on an issue the White House plans to highlight more in coming weeks, according to administration officials.
The White House is trying to make the case that China is taking new and more aggressive steps aimed at influencing U.S. elections, political debates and policies.
President Trump accused China of trying to interfere in the upcoming midterm elections to help Democrats in a speech to the United Nations last week.
"They don't want me, or us, to win because I am the first president to ever challenge China on trade," he told a U.N. Security Council meeting.
A senior administration official said the White House is reviewing China's actions to determine if any of them would elicit a response, including possible sanctions under an executive order on foreign interference in U.S. elections that Trump signed last month.
The heightened concern stems from China's attempts to influence U.S. politics in its trade fight with Trump, as well Beijing's continued attempts to meddle with American businesses, research facilities and education institutions, according to administration officials.
Officials also said some of China's actions are overt, such as a recent advertisement in an Iowa newspaper, the Des Moines Register, while others are covert.
Trump has slapped tariffs on $250 billion in Chinese goods, and Beijing has retaliated with its own tariffs — many aimed at industries and regions of the U.S. that are politically important to Trump.
While Pence focused on China on Thursday, U.S. intelligence agencies assess that Russia interfered in the 2016 presidential election to boost Trump over Democratic rival Hillary Clinton through hacking and releasing sensitive documents and social media manipulation.
Trump signed an executive order in September authorizing sanctions against those found to be involved in election interference, but U.S. officials have said repeatedly they have not seen nearly the same level of activity by Russia and others in the midterms as in 2016.
Saphora Smith reported from London, Carol E. Lee, Courtney Kube and Abigail Williams from Washington.