Turkey seeks help from Wall Street despite 'economic war' with U.S.
Comments
By Alastair Jamieson with NBC News World News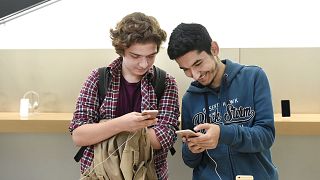 -
LONDON — Turkey's president says his country is fighting an "economic war" with the United States and has called for a boycott of the dollar and American goods such as iPhones.But Recep Tayyip Erdogan's government has quietly turned to Wall Street for help in fixing the country's struggling economy.
World news
Finance Minister Berat Albayrak — who is also Erdogan's son-in-law — has commissioned New York-based global management consultancy McKinsey for advice on a three-year turnaround program to beat soaring inflation and a currency crisis.The move attracted derision from opponents in Turkey, including from CHP party Deputy Chairman Faik Öztrak, who said Albayrak was avoiding asking for help from the International Monetary Fund for political reasons.Turks are facing an economic crisis, with annual inflation of nearly 18 percent — the highest rate in more than 15 years — and a 40 percent collapse in the value of the Turkish lira against the dollar since January. Prices for everyday items such as food and gas are soaring.
Erdogan publicly blames the U.S., citing President Donald Trump's sanctionsand higher tariffs on Turkish metals imposed amid a diplomatic rift over the jailing of Americans including Andrew Brunson, a pastor from North Carolina.World news
He called on Turks to change dollars into lira last month, saying: "This is a national, domestic battle. This will be my people's response to those who have waged an economic war against us."Erdogan also urged a boycott on American consumer goods, saying: "If they have iPhone, there is Samsung on the other side. And we have our own telephone brands."
Albayrak said McKinsey would be advising a new government unit specializing in cost controls and financial regulation within his New Economy Program (YEP), according to an interview in Erdogan-linked Sabah news site.The Finance Ministry did not confirm the deal, but in a news release said the use of consultants was normal and added suggestions that a private company would be running Turkey's economy were false.Erdogan told lawmakers on Monday that he hoped that strained relations with Washington would soon improve, but he added that Brunson's case, which is due for another court hearing on October 12, was a matter for the courts.