Ireland ready for resumption of 'professional' Brexit talks
Comments
By Reuters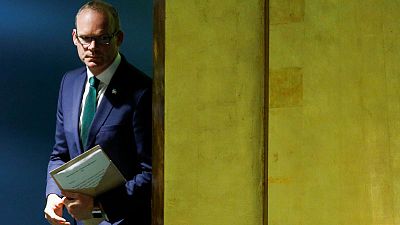 -
DUBLIN (Reuters) – Ireland expects Brexit negotiators to return to the kind of "professional" talks that had been going on before British Prime Minister Theresa May's party conference and do what is needed to reach a deal, Foreign Minister Simon Coveney said on Tuesday.
With six months to go before Britain leaves the EU, May's precarious position at the helm of her party has been tested this week by a conference that further highlighted the deep divisions within her party over how she intends to see Britain leave the EU.
Coveney said that had resulted in a lot of very forceful language on both sides of the Brexit debate within Britain's ruling Conservative party but that much of that was for domestic and internal political party consumption.
The European Union – which is deadlocked in negotiations with Britain over how to avoid the return of a hard border between Ireland and British-ruled Northern Ireland post-Brexit – should instead be "calm and sensible" and not get dragged into that debate, he said.
"As soon as this conference is over I hope we will get back to the kind of professional negotiations that had been going on before the Tory party conference to get what needs to be done in the next couple of months over the line," Coveney told reporters.
"That will be our focus and not taking the bait from comments that are somewhat inflammatory…. I think we would be foolish to get drawn into distractions. What's needed now is to ensure that the commitments that have been made by the British government are actually going to be followed through."
(Reporting by Padraic Halpin, editing by Ed Osmond)