Movie about corrupt priests outrages politicians in Catholic Poland
Comments
By Reuters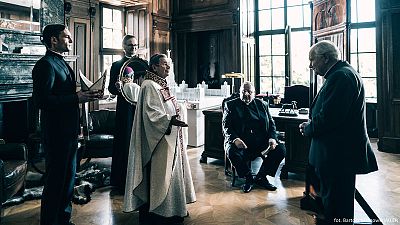 -
By Marcin Goclowski
WARSAW (Reuters) – A new movie featuring drunk, fornicating and child-abusing priests has outraged some conservative politicians in Poland and fuelled debate about the Catholic Church's influence in one of Europe's most devout nations.
"Kler" ("Clergy") revolves around the lives of three fictional Catholic priests who swill vodka and mock the church. One of them sexually abuses a blind orphan boy.
Several senior members of Poland's ruling Law and Justice (PiS) party, which counts on the Church's backing for electoral support, have spoken out against the film.
Its release on Friday comes as a landmark paedophilia case grinds through Poland's courts and Pope Francis battles to address the issue worldwide.
In January, a court in Poznan ordered the Catholic Church in Poland to pay reparations and a lifetime pension to a woman who had been sexually abused by a priest as a child. An appeal is due to be heard in October.
"Kler", made by celebrated Polish director Wojciech Smarzowski, was praised by critics after its premiere at a Polish film festival last week.
But Jaroslaw Sellin, a deputy culture minister in the PiS government, accused it of fostering "negative stereotypes" and treating the Church unfairly.
Other members of the PiS, a staunchly eurosceptic party big on patriotism and Catholic piety, have said they want it banned.
The flagship news programme on state television, closely aligned with the PiS, called the film "just another attack on the Catholic church, brutal and untrue".
Church attendance is declining in Poland, along with the clergy's traditional sway over policymakers, but it remains one of Europe's most religious countries.
The Institute for Catholic Church Statistics, a Warsaw-based research centre run by priests, says nearly 85 percent of the 38 million population are Catholic, and 37 percent of those attend Sunday mass.
Most children at state schools attend religious classes but get little in the way of sex education, while doctors can refuse contraceptives to unmarried women on religious grounds.
A crucifix hangs prominently in the lower house of the Polish parliament, despite legal efforts by secular politicians to have it removed.
"Kler" was shot mainly in churches in the Czech Republic because getting permission to film in Polish churches would have taken too long, Smarzowski told the French TV channel Canal+.
In a promotional video, he said he hoped his film would stop people treating priests as saints: "They're not saints. They just wear cassocks."
(Reporting by Marcin Goclowski; Editing by Andrew RC Marshall and Kevin Liffey)