Kavanaugh's nomination hangs in the balance
Comments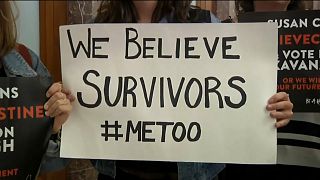 Brett Kavanaugh's nomination to a lifetime seat on the U.S. Supreme Court hung in the balance on Friday.
Democratic senators call on the President to "immediately withdraw" the nomination but in a tweet, Trump says, Kavanaugh's testimony was powerful, honest and riveting. Democrats search and destroy strategy is disgraceful".
For his part, Kavanaugh testified he was "100 percent certain" the alleged incident did not occur.
Supporters of Brett Kavanaugh standby him
Meanwhile, Dr Christine Blasey Ford has emerged in the eyes of many American women as a compelling figure in the # MeToo movement.
Senator Elizabeth Warren, Massachusetts says, "I'm honored to stand here with the women who believe that there needs to be an investigation. And that it is deeply insulting to every woman in this country that Republicans in the United States Senate would come forward with this hearing without doing an investigation."
If all 10 Democrats on the committee vote against Kavanaugh, the spotlight would shine on Republican Senator Jeff Flake, who's retiring from the Senate and has shown a willingness to defy Trump.