Macedonia village builds houses as it waits for change
Comments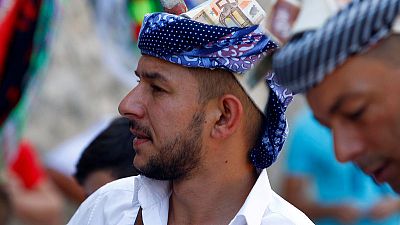 -
By Ognen Teofilovski
GURGURNICA, Macedonia (Reuters) – The village of Gurgurnica sits on a slope overlooking the town of Brvenica in northwestern Macedonia, its streets dotted with modern houses and shiny new cars.
But like much of rural Macedonia, many of Gurgurnica's houses are empty and few people walk its streets.
One in five villages have fewer than 50 inhabitants, a 2017 report by the Federation of Farmers of Macedonia showed.
"The village has 300 homes, there are around 250 homes with people, around 50 are shuttered," said Gurgurnica resident Medi Veseli.
"People return there for summer holidays and New Year's," he said of the padlocked houses.
Rural poverty and underdevelopment have sparked an exodus but strong family ties mean those who leave for work, often in the European Union or the United States, send money back to build family homes.
"There are only 20 to 25 people that are employed …there's one private company in the village," Veseli said. "There are homes with women and children, but workers, husbands, they are abroad."
But with the money sent home, extended families build sprawling, multi-store brick and concrete houses, he said.
"There are up to nine brothers (with families) under one roof … there's one home where 25 to 30 people can live," resident Ismet Ismaili said.
Another change witnessed in Gurgurnica is a move away from agriculture. Twenty years ago, the village sustained itself with sheep and cattle breeding, but that has gradually died out, partly due to poor state subsidies.
"Conditions for agriculture are bad, …the land is arid," said resident Nevzad Ferati.
One cause for hope is progress in a decades-long dispute with Greece over the use of the name Macedonia, a fight that has hampered the country's development and its bids to join the EU and NATO.
In June, the foreign ministers of Greece and Macedonia agreed the ex-Yugoslav republic would be renamed the "Republic of North Macedonia".
Prospects for places like Gurgurnica could improve if Macedonia votes in favour of the name deal with Greece and a NATO membership bid in a referendum set for Sept 30.
More than 50 percent of people plan to vote, with the majority supporting the name deal and the NATO bid, recent opinion polls show.
Macedonia has a population of just 2 million, with ethnic Albanians accounting for around a quarter of the total.
Once a part of Yugoslavia, Macedonia peacefully seceding in 1991 but came close to civil war in 2001 when ethnic Albanians launched an armed insurgency seeking greater autonomy.
(Reporting by Ognen Teofilovski; writing by Aleksandar Vasovic; editing by Jason Neely)
euronews provides breaking news articles from reuters as a service to its readers, but does not edit the articles it publishes. Articles appear on euronews.com for a limited time.