World Rugby's big gamble enters final stretch
Comments
By Reuters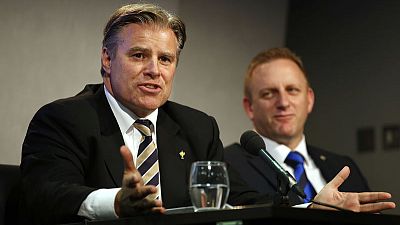 By Jack Tarrant
TOKYO (Reuters) – Nine years after the bold decision to take their showpiece tournament out of the sport's traditional heartlands for the first time, World Rugby are confident Japan will vindicate the gamble by delivering a top class 2019 World Cup.
The hosts face Russia in the opening match of the tournament at Tokyo Stadium on Sept. 20 next year and the Japanese capital will mark the start of the 12-month countdown to Asia's first Rugby World Cup later on Thursday.
And while a lack of experience among organisers did lead to a few road blocks along the way, not least concerns over the quality of training and accommodation facilities, World Rugby believe everything is now pretty much in hand.
"There are no major obstacles for the last 12 months," World Rugby chief executive Brett Gosper said in Tokyo on Wednesday ahead of the celebrations.
"They have organised themselves well and they are on schedule for this last year. It hasn't always been like this but now they are in a very good position."
World Rugby chairman Bill Beaumont said Japan hosting the tournament was the culmination of a decision first made in 1997 to expand into Asia and beyond the traditional tier one nations.
"What it has done is give us an opportunity to grow the game in an area that we think has potentially huge growth," said the former England captain.
"That is the reason we are here – to leave a legacy to the game. This is vitally important."
The success of Japan 2019 has the potential to determine long-term plans for the World Cup as World Rugby look to balance a desire to spread the game into new markets with a need to be financially sustainable.
World Rugby vice chairman Agustin Pichot warned last week that the international game was under threat of financial ruin. .
"World Rugby will have to have a philosophical debate going forward," explained Beaumont, who has already overseen the awarding of the rights to the 2023 World Cup to France.
"Do you always have to keep chasing the money? Because what you find is that you would only end up with a few countries being able to host it.
"Or do you say to Argentina, Ireland, Canada – these are countries we are going to because strategically that is going to make the biggest difference in that area?
"The issue is that the Rugby World Cup is World Rugby's only source of income. We are in a very strong financial position but we redistribute all our funds back to the game so it is very important we are commercially successful.
"We do need to have that debate, whether the World Cup after France should go to an emerging country or an established country."
POTENTIALASIANGROWTH
What particularly excites those at the top of the game is the possibility that a World Cup in Asia might ignite interest in rugby across the world's most populous continent.
While it is not the first sport to try and crack a notoriously challenging market, World Rugby say their 1 Million Asia project, which aims to get over a million people to engage with the game for the first time, is almost complete.
In order to engage potential fans again next year, World Rugby want as many tournament matches as possible available on free-to-air television channels and other broadcast platforms across the region.
"We want to use the World Cup to get more free-to-air coverage and in more territories in Asia," explained tournament director Alan Gilpin.
"We have got to support that with better availability of content, we can't just rely on free-to-air broadcasters. We are looking at direct to consumer platforms that will launch around the World Cup next year."
Some 25 million people in Japan watched their Brave Blossoms team play against Samoa at the 2015 World Cup but World Rugby hope to smash that record at the 2019 tournament.
"The tournament here will have unprecedented free-to-air coverage for rugby," added Gilpin.
"This is the opportunity to use rugby's biggest event to reach the widest possible audience."
(Reporting by Jack Tarrant, editing by Nick Mulvenney)