Polish PM says had 'good' meeting with Supreme Court head
Comments
By Reuters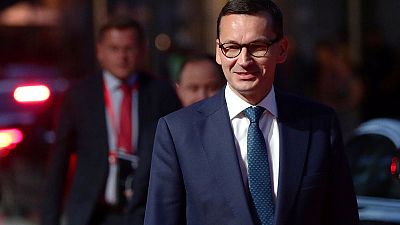 -
SALZBURG, Austria (Reuters) – Poland's Prime Minister Mateusz Morawiecki said he had a "good" meeting with the head of the country's Supreme Court earlier in the day and welcomed the fact that the EU executive did not file a new lawsuit against Warsaw over changes to the judicial body.
The EU's executive European Commission defied expectations earlier on Wednesday by not referring to the bloc's top court, the European Court of Justice, a new case against Poland for trying to push out its Supreme Court judges, including Malgorzata Gersdorf, who has defied government pressure.
"I am glad that the European Commission has not referred the case," Morawiecki told reporters on arriving for talks among all 28 EU leaders in Austria about migration and Brexit.
"I spoke yesterday to (Commission) President Jean-Claude Juncker. Today in the morning I spoke to Professor Gersdorf. It was a nice conversation… There were no sensational details, no agreements but it was a good conversation. With President Juncker as well."
"We are showing we are open for talk," Morawiecki said of Poland's long-running fight with the EU, which says the nationalist government in Poland is undercutting democracy with its sweeping judicial overhaul.
(Reporting by Gabriela Baczynska; editing by Philip Blenkinsop)