Orban says Hungary to appeal Article 7 in defiant message to Brussels
Comments
By Alice Tidey & Noemi Mrav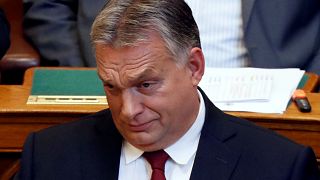 -
Copyright

REUTERS/Bernadett Szabo
Hungarian Prime Minister Viktor Orban issued a defiant message to Brussels on Tuesday, saying he will appeal the EU's decision to trigger Article 7 procedures against the country and prove that the Sargentini report is based on "absurdities".
"Hungary is attacked because the Hungarian people deciced that our country will not be an immigrant country," Orban told parliament as it returned from recess on Tuesday.
The prime mInister, who last week accused European lawmakers of "blackmail" ahead of the vote to trigger Article 7 against Hungary, told Hungarian parliamentarians that the country will appeal.
The EU parliament backed the launch of Article 7 after Dutch MEP Judith Sargentini wrote in a report that Hungary had breached various EU values, citing migrant abuse, restrictions on press freedom, corruption and conflicts of interest as well as "stereotypical attitudes" towards women.
The motion, often dubbed the "nuclear option", could see the EU impose sanctions on Hungary and restrict its voting rights.
But on Tuesday, Orban dismissed what he described as "absurdities" in the report and said he had put close collaborator Gergly Gulyas, in charge of appealing.
A controversial figure, Orban, one of the chief opponents to proposed EU migrant resettlement quotas, has been widely criticised for his anti-migrant policies.
In 2015, at the height of the migrant crisis, he ordered the installation of a razor-wire fence on Hungary's border with Serbia and Croatia. He has also pushed through several contentious laws preventing rights groups and individuals from providing assistance to migrants and asylum seekers which are now the subject of a court case between his government and the European Commission.
Last month, Hungary was ordered by the European Court of Human Rights to resume food distribution to rejected asylum seekers held in transit zones after rights groups filed an emergency appeal. Hungary denies any wrongdoing and says it is acting in accordance with the law.
In his address, Orban vowed to fight for Hungary to retain control of its border policy.
"We will not let anyone take away one iota of our border control rights," he said.
"Brussels does not aim to protect the European Union's borders but to set up a reception centre to manage immigration rather than stop it," he added.
His speech came a day ahead of an EU leaders' summit in Salzburg, Austria, where internal security, migration and Brexit will be high on the agenda.