Jean-Claude Juncker's State of the Union address
Comments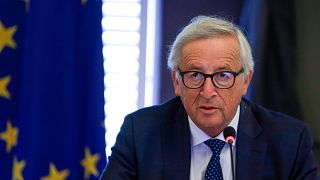 European Commission President Jean-Claude Juncker delivered his annual State of the Union address to the European Parliament in Strasbourg on Wednesday.
His speech centred on the region's burning issues - terrorism, populism, and Brexit.
The former prime minister of Luxembourg made a swipe at the parties of the far right: "Let's embrace the kind of patriotism that is not directed, against others, and let us decry kneejerk nationalism which rejects and attacks others and seeks scapegoats rather than looking for solutions that allow us to co-exist better."
He unveiled new plans to beef up the EU's coast guard with a pledge to send 10,000 more border guards to tackle unlawful immigration by 2020,
Juncker also made a renewed call for solidarity amongst the 27 member states.
He offered British Prime Minister Theresa May warm words in response to her calls to reach an unprecedented Brexit deal but made a clear signal that the EU would not accept London's plan to keep the UK in the single market. The single market guarantees freedom of movement for goods, services, people and capital between member states. His comments come after the revelations that pro-Brexit politicians in the Prime Minister's party had stepped up their campaign to oust her.
Juncker's alluded to the annual speech being his fourth and final State of the Union address. He was met with a standing ovation, "a few years ago, standing in this very same spot, I told you that Europe was the love of my life. I love Europe still and shall do so forevermore".