Hans-Georg Maassen- the spy who went out into the heat
Comments
By Reuters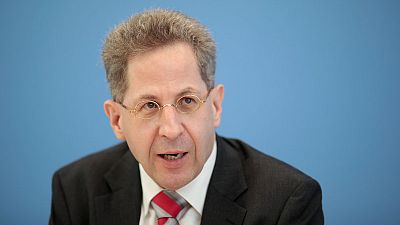 By Paul Carrel
BERLIN (Reuters) – Spies usually operate in the shadows. Hans-Georg Maassen, chief of Germany's domestic spy agency, has done just the opposite and taken centre-stage in a heated debate about the far-right that is shaking Chancellor Angela Merkel's government to its core.
In comments to Friday's edition of mass-selling daily Bild, Maassen said he was sceptical about reports that migrants had been hounded in the city of Chemnitz after the fatal stabbing of a German man there, for which two asylum seekers were arrested.
The violence in the eastern city has shaken Germany deeply. But Maassen said his BfV domestic intelligence agency had "no reliable information about such hunts taking place", and that a video circulating showing that happening could have been faked.
Those comments put him at odds with Merkel, who said images from Chemnitz "very clearly" showed hate. She has also accused the far-right Alternative for Germany (AfD) party of using violent protests over the stabbing to stir up ethnic tension.
The upshot is that senior politicians are calling for 55-year-old Maassen to go. He will likely have to explain himself to a parliamentary committee this week. His own stance towards the far-right is also being questioned.
"Will the AfD soon have a new hero?" the Bild am Sonntag newspaper asked in a headline next to a picture of Maassen, whose face was plastered across German weekend newspapers and television bulletins.
Questions have been raised before about how aggressively Maassen has taken on the far-right, including the AfD, which he has resisted putting under surveillance.
A former leader of the AfD's youth wing, Franziska Schreiber, wrote in her book published this year – "Inside AFD: The report of a drop-out" – that Maassen had advised ex-AfD leader Frauke Petry on how the party could avoid being put under surveillance by his office. He has denied giving such counsel.
POLITICALFALLOUT
A trained lawyer who forged his career in the Interior Ministry, Maassen has generally stayed out of the spotlight during his six years in charge of the BfV, though he has clashed with other more circumspect government officials for calling out Russia as the likely culprit behind cyber attacks on Germany.
In a 2016 interview with Reuters, Maassen said far-right extremists in Germany were increasingly ready to commit violent acts – a risk he has since flagged again.
On Friday, Maassen's BfV intelligence agency said it would make further checks on information available about the Chemnitz protests as "there are always fake news and attempts at disinformation" on social media.
"Checks, in particular with regard to possible 'hounding' of migrants by right-wing extremists, will continue," it added.
Maassen's Chemnitz comments have aggravated tensions about whether politicians and the authorities are being too complacent in the face of rising xenophobia in Germany, where many thought the lessons of its Nazi history had long been learned.
The remarks have also split Berlin's political class and re-opened fissures over immigration in Merkel's 'grand coalition', only two months after she closed a painful row with her Bavarian sister party on the same issue.
Interior Minister Horst Seehofer, of the Bavarian Christian Social Union (CSU), has backed Maassen. Alexander Gauland, co-leader of the anti-immigrant AfD, told the Bild am Sonntag: "All accusations against him are politically motivated."
But Malu Dreyer, a senior figure in the Social Democrats, junior partner in Merkel's coalition, said he had created uncertainty and "destroyed" trust in the state. "So I do not think he is still the right man for this position," she added.
(Additional reporting by Andrea Shalal, editing by Louise Heavens)