Colombia's president says ELN rebels may free more hostages soon
Comments
By Reuters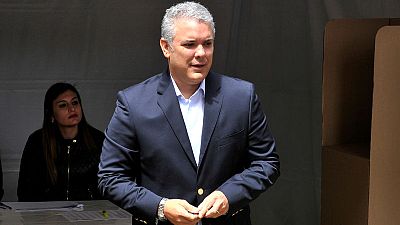 -
BOGOTA (Reuters) – More hostages held by Colombia's ELN rebel group may be released shortly, President Ivan Duque said on Saturday, reiterating that he will not return to peace talks with the leftist guerrillas until all those kidnapped have been freed.
The Marxist National Liberation Army (ELN) on Wednesday released three soldiers it had held hostage for nearly a month. Duque has said it must free another 16 hostages before peace talks begun by his predecessor in 2017 can resume.
Duque said during his Aug. 7 inauguration speech that he would evaluate the talks during his first 30 days in office, but he has not yet announced a definitive decision on whether or not they will continue.
"I celebrate that in recent days various people have returned home, I celebrate that over the next hours more people will do so, but we need a convincing gesture to the Colombian people, and that must be the liberation of all the kidnapped," Duque said during an event in Amaga, in north-central Colombia.
"If that premise is reached and all criminal activities are stopped, we are ready to start this exploration," Duque said. "But until that premise is reached we aren't going to designate anyone to sit at that table."
The last round of the talks, which were held in Cuba, ended on Aug. 1. The ELN is believed to be holding six more members of the security forces in Choco province as well as 10 civilians.
The guerrillas have repeatedly urged the government to suspend military operations in Choco so that hostages there can be freed.
In a video posted on Twitter on Friday, a commander from the rebels' western unit said the ELN would not risk the lives of its fighters or the hostages because of the government's "hurry."
The ELN, founded by radical Catholic priests, is considered a terrorist group by the United States and the European Union. It has waged a five-decade war against the government, engaging in bombings, kidnappings, extortion and oil pipeline sabotage.
The group suspended hostage-taking, attacks on oil installations, the use of landmines and the recruitment of minors during a ceasefire from September 2017 to January 2018.
(Reporting by Julia Symmes Cobb; Editing by Paul Simao)