Belgium blesses its beer on brewers' day
Comments
By Reuters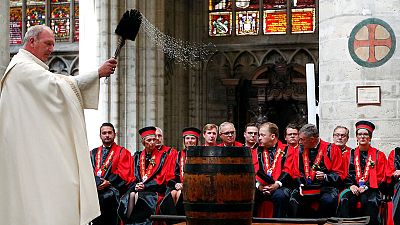 -
BRUSSELS (Reuters) – Belgian brewers accompanied by musicians dressed in medieval costumes took a barrel of beer to Brussels' cathedral on Friday for consecration as part of an annual celebration of their patron saint, Arnould.
Known as the Knighthood of the Brewer's Paddle, the guild of brewers walked to music through Brussels' historic Grand Palace to the cathedral for the ceremony, where the wooden cask of beer was blessed by a priest.
"It's a magnificent celebration for Saint Arnould … it's a great tradition because beer in Belgium is something we are very proud of," said Daniel Krug, an executive at the brewery of the family-run Duvel Moortgat.
Belgian monks began brewing more than 1,000 years ago and there are currently more than 150 breweries making beers ranging from strong Trappist brews to fruit ales.
In a ceremony that dates from medieval times, Arnould, an 11th century monk and later a bishop in Flanders, is said to have blessed a local brewery whose beer miraculously cured local people from the plague.
The consecration will be followed by the country's beer weekend, an event gathering all brewers on the Grand Place to get the public to discover Belgium's over 1,100 different beers.
The event was attended by Belgian Prime Minister Charles Michel, who said beer was central to both Brussels' and Belgium's international image. "It's our cultural heritage," he told Reuters.
(Reporting by Hortense de Roffignac; Editing by Alison Williams)