Norwegian developer completes his timber skyscraper
Comments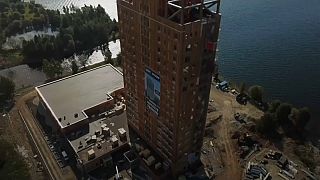 The tallest timber building in the world has been completed in the Norwegian town of Brumunddal.
Around 12,000 trees were used for the construction, with material and technology sourced locally.
Real estate developer Arthur Buchardt wanted to put his hometown on the map with the 18-storey building.
The 85.4m 'glulam' (glue and laminate) construction, named the Mjoestaarnet, is said to be fireproof and provide great insulation.