Democrats press Trump's Supreme Court pick over new documents
Comments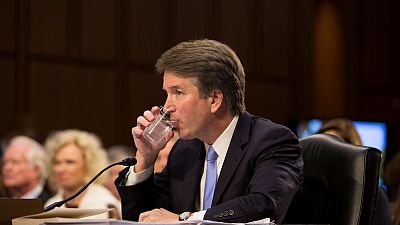 -
By Lawrence Hurley and Amanda Becker
WASHINGTON (Reuters) – Democrats pressed Brett Kavanaugh, President Donald Trump's U.S. Supreme Court pick, over newly released emails highlighting his views on abortion and race issues on Thursday during his Senate confirmation hearing after a tense partisan fight over the public release of the documents.
Kavanaugh, the conservative federal appeals court judge selected by Trump for a lifetime post on the high court, also stressed under questioning by senators the authority of the courts to check the power of the presidency though he declined to comment on the president's criticism of the judiciary.
The emails released on Thursday dated from Kavanaugh's service in the White House under Republican President George W. Bush more than a decade ago. Democrats had objected to an earlier decision by the Senate Judiciary Committee's Republican leadership not to make the emails public.
The third day of the confirmation hearing again was repeatedly interrupted by protesters hostile to Kavanaugh. The nominee, enduring back-to-back days of lengthy questioning, remained in good humour, making no gaffes that could derail his confirmation in a Senate narrowly controlled by Trump's fellow Republicans despite the efforts of Democrats opposed to him.
In a 2003 email, Kavanaugh suggested striking a line from a draft opinion piece that had stated "it is widely accepted by legal scholars across the board that Roe v. Wade and its progeny are the settled law of the land," saying that the Supreme Court could overturn it.
Asked about that document, Kavanaugh said he suggested the change because he thought the draft language was overstating the thinking of legal scholars at the time. He again declined to say whether the landmark 1973 ruling that legalized abortion nationwide, Roe v. Wade, was correctly decided, though he indicated – as he also had on Wednesday – that it is a decision that merits respect as "an important precedent of the Supreme Court" that has been "reaffirmed many times."
Democratic Senator Cory Booker, a key player in the document dispute, focussed on a 2002 email he said described Kavanaugh's views as a Bush White House aide on the use of "racial profiling" in the aftermath of the Sept. 11, 2001, attacks on the United States by the al Qaeda Islamist militant group.
In it, Kavanaugh said that although he favoured race-neutral policies in policing, there was an "interim question of what to do before a truly effective and comprehensive race-neutral system is developed and implemented."
Kavanaugh also wrote in a 2001 email that some U.S. Transportation Department affirmative action regulations used "a lot of legalisms and disguises to mask what is a naked racial set-aside." Affirmative action refers to policies that favour groups like racial minorities in practices such as hiring that have experienced past discrimination.
If confirmed, Kavanaugh is seen as likely to tilt the top U.S. court even further to the right. That prospect worries Democrats and heartens Republicans on volatile issues including abortion, gun rights, gay rights, the death penalty, religious liberty and business regulation.
'THEFINALWORD'
Democratic Senator Dick Durbin said Kavanaugh's nomination comes at a time when the man who selected him, Trump, poses a threat to America's rule of law and is facing an ongoing special counsel investigation. Kavanaugh said his 12 years as a judge demonstrated he is unafraid "to invalidate executive power when it violates the law."
On Wednesday, Kavanaugh declined to answer whether a president would have to respond to a court's subpoena, saying he could be asked to rule on the matter. But under questioning by Durbin on the scope of presidential power, Kavanaugh underscored judicial authority.
"When a court order requires a president to do something or prohibits a president from doing something under the Constitution or laws of the United States, under our constitutional system, that is the final word," Kavanaugh said.
Kavanaugh, probed again on his views on a 1974 Supreme Court ruling against President Richard Nixon requiring recordings made in the Oval Office to be given to prosecutors, said the case was correctly decided. He called it "a moment of judicial independence where I think the court came together" in a unanimous decision.
Kavanaugh declined to answer questions on how that case could be applied relating to the special counsel investigation involving Trump.
The hearing opened with Democrats complaining that various documents had not already been made public by the committee's Republican leaders. They were released by the committee minutes later.
Booker called the process used by the committee to decide which documents to make public "a bit of sham," a characterization rejected by the panel's Republican chairman, Chuck Grassley. Booker said he was willing to face possible punishment under Senate rules by releasing the documents himself, although Republicans said they had already agreed to release them.
Republican Senator John Cornyn accused Booker of "conduct unbecoming a senator," adding, "Running for president is no excuse for violating the rules of the Senate or of the confidentiality of the documents that we are privy to."
Two of the Democratic senators who have been most forceful in the Kavanaugh hearing, Booker and Kamala Harris, are considered potential 2020 presidential candidates.
Trump picked Kavanaugh, 53, to replace Justice Anthony Kennedy, who announced his retirement in June. The hearing is set to wrap up on Friday with testimony from outside witnesses.
(Reporting by Lawrence Hurley; Editing by Will Dunham)
euronews provides breaking news articles from reuters as a service to its readers, but does not edit the articles it publishes. Articles appear on euronews.com for a limited time.