Kurdish militants must leave Syria, Turkey tells U.S. envoy
Comments
By Reuters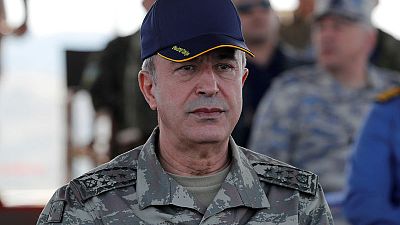 -
ANKARA (Reuters) – Turkey told the United States on Tuesday that Kurdish militants must completely abandon Syria, as violence in the rebel-held northern Syrian enclave of Idlib escalated.
Turkish Defence Minister Hulusi Akar made the call during talks with visiting U.S. special representative for Syria James Jeffrey, the defence ministry said in a statement.
Akar conveyed Ankara's discomfort with the presence of Kurdish militants in the region, it added.
Russia, an ally of Syrian President Bashar al-Assad, resumed air strikes on Tuesday against insurgents in Idlib. This followed weeks of aerial bombardment and shelling by pro-Syrian government forces in an apparent prelude to a full-scale offensive against the rebels' last major enclave.
Assad has repeatedly pledged to take back "every inch" of Syria, which would mean regaining both Idlib and Kurdish-led areas in the northeast.
Turkey, which has backed some rebels against Assad, has previously said a military operation into Idlib would be disastrous.
Ankara is angry over Washington's support for the Kurdish YPG militia in Syria. Ankara sees the YPG as an extension of the Kurdistan Workers Party (PKK) which has fought an insurgency in southeast Turkey since 1984 and is considered a terrorist group by the United States, Turkey and Europe.
Turkish forces have carried out two-cross border operations against the YPG in Syria.
In a move long sought by Turkey, the NATO allies agreed in June to implement a roadmap for the northern Syrian city of Manbij. Under this, Turkish and U.S. forces are now carrying out joint patrols there to clear the area of YPG militants.
Turkish Foreign Minister Mevlut Cavusoglu said on Twitter he had also met Jeffrey to discuss developments in Idlib in particular.
According to the U.S. Embassy in Ankara, Jeffrey conveyed Washington's stance that an offensive in Idlib would risk civilian lives and prospects of a political settlement of the Syrian war. Such an assault would "fuel support for terrorism and harm regional stability", it also said on Twitter.
Ankara and Washington have more recently been in a stand-off over the fate of a U.S. evangelical pastor being tried in Turkey on terrorism charges that he denies. The row has helped to send Turkey's lira currency plunging about 40 percent this year.
(Reporting by Tuvan Gumrukcu and Ece Toksabay; Editing by Matthew Mpoke Bigg and David Stamp)