Kyrgios umpire criticised by U.S. Open for going 'beyond protocol'
Comments
By Reuters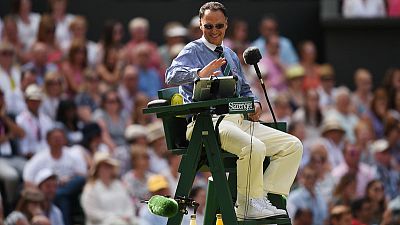 -
By Amy Tennery
NEWYORK (Reuters) – Swedish umpire Mohamed Lahyani was reprimanded by U.S. Open organisers for going "beyond protocol" when he climbed down from his chair to give Nick Kyrgios a mid-match pep talk during Thursday's second round match against Pierre-Hugues Herbert.
However, Lahyani, a well-experienced umpire on men's ATP Tour and Grand Slam circuit, escaped any sanction and will be allowed to continue officiating at Flushing Meadows because of his "exemplary track record as an international tennis official", a United States Tennis Association spokesman said.
The 52-year-old Lahyani, who until Thursday was perhaps best known for umpiring the 11-hour marathon between John Isner and Nicolas Mahut in the first round of Wimbledon in 2010, was roundly criticised by players, pundits and fans alike for taking the extraordinary decision to try and rouse Kyrgios when the Australian was trailing Herbert by a set and 3-0 in the match.
The bizarre scene went viral on social media as Lahyani addressed the 30th seed for nearly a minute and at one point was heard saying, "I'm trying to help you."
"Lahyani's conduct during Thursday's second-round match involving Nick Kyrgios and Pierre-Hugues Herbert went beyond protocol," the U.S. Open said in a statement.
While he will continue to umpire at this year's final major, he has also been "advised to adhere to proper protocols in all matches that he officiates moving forward."
A defiant Kyrgios, who has been fined for tanking games in the past, denied that the umpire's remarks were out of line or made any difference to his mindset.
"He wasn't coaching me at all… Of course he wasn't coaching me. I got some salt from the physio because it was hot and I wasn't feeling great," a bemused Kyrgios, who took the salt tablets in the next changeover, told reporters.
On Thursday, tournament referee Brian Earley also denied suggestions that Lahyani was trying to gee up Kyrgios.
"(Lahyani) came out of the chair because of the noise level in the stadium during the changeover, to make sure he could communicate effectively with Kyrgios. (He) was concerned that Kyrgios might need medical attention," Earley said.
"Lahyani told Kyrgios that, if he was feeling ill, the tournament could provide medical help. He also informed Kyrgios that if his seeming lack of interest in the match continued, as the chair umpire, he would need to take action."
Herbert, however, said Lahyani had "over-passed his job or what he was supposed to do" and he was upset with Earley's statement.
"Nick from his side is not to blame as he did not ask for anything. But his behaviour and motivation on court changed from this moment and then dominated the match," fumed Herbert.
"I am even more upset against (Earley's) statement that is clearly taking us for fools … when we players are making mistakes on court we are sanctioned."
Kyrgios won the match 4-6 7-6(6) 6-3 6-0 to earn a third-round showdown with Roger Federer.
The Swiss was among those who thought Lahyani had crossed the line.
"It's not the umpire's role to go down from the chair," said Federer, the winner of 20 majors.
"I get what he was trying to do. But you don't go and speak like that. He was there for too long. It's a conversation. Conversations can change your mindset."
(Reporting By Amy Tennery, editing by Pritha Sarkar)