'Sport doesn't mean you have to sweat' – esports makes Asian Games bow
Comments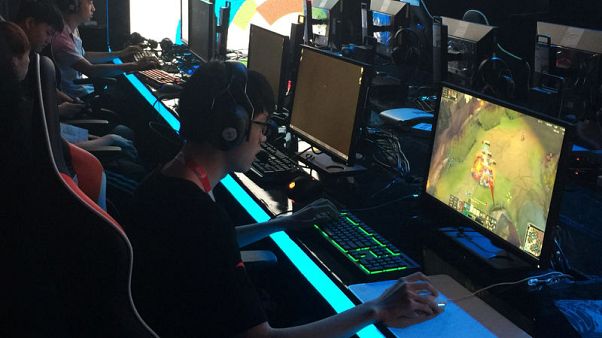 -
By Jack Tarrant and Angie Teo
JAKARTA (Reuters) – Skinny, pale and sitting in front of a computer, Lee Sang-hyeok doesn't look much like a traditional Olympic athlete.
But that is exactly what he and his fellow professional esports gamers could be if demonstrations held at the Asian Games in Jakarta this week prove successful.
Esports will appear at a major multi-sport event for the first time on Sunday, raising the possibility of gamers earning the same Olympic gold medals as those won by American swimmer Michael Phelps or Jamaican sprinter Usain Bolt.
Six titles, starting with Arena of Valor and including League of Legends (LOL) and Pro Evolution Soccer (PES), will feature, in what could be the first step towards inclusion in the Olympic Games.
In November last year, the International Olympic Committee recognised esports as a sporting activity and it will be a full medal event at the 2022 Asian Games.
For gamers like Lee, who goes by the online moniker "Faker" this is a chance to show the world they belong among the world's top athletes.
"Sports doesn't mean you must sweat," said Lee, who is the highest earning player in LOL history with a career income over $1,740,000 according to tracker esportsearnings.com.
"Gaming uses a lot of mental skill rather than physical.
"It takes a lot of mental strength and requires a lot of efforts and tough training, so I think esports could be even tougher than any other sports."
"I think it is unfair to say that a sport depends on whether one sweats."
DEMONSTRATIONSPORT
It is a demonstration sport this time around, yet organisers hope events in Jakarta will prove to sceptics that gamers belong in the same programme as marathon runners, boxers and soccer players.
This could open up questions about what defines professional sport and potentially change the dynamic of top-tier sporting competition forever.
There is, however, no denying the popularity of esports.
Professional electronic gaming boasts an estimated 250 million players worldwide in a growing market worth about a billion dollars a year.
This, combined with the IOC enthusiasm to engage younger viewers, means there is a groundswell of support for electronic gaming to be added to the Olympic programme.
The IOC's inclusion of sports such as skateboarding and sports climbing at Tokyo 2020 is an indication of its willingness to promote sports aimed at younger audiences.
Kenneth Fok, President of the Asian Esports Federation, the body behind the programme in Jakarta, is bullish about the future of his sport.
"Ultimately, for us from day one, AESF's goal will be trying to help put esports in the Olympics and on the bigger Olympic stage," Fok told Reuters on Saturday.
"Now we take it through the Asian Games to a more mainstream, main stage. I think that is a very important deal," he added.
"Its an important step towards being accepted by society and also being accepted by the Olympic movement."
GAMESVIOLENCE
It remains highly unlikely esports will feature at the 2024 Paris Olympics and one of the key reasons could be the IOC's aversion to the violence that features in many of the world's top video games.
In April, IOC President Thomas Bach said the violence in some games went against Olympic values.
"We have to draw a very clear red line in this respect and that red line would be e-games which are killer games or where you have promotion of violence or any kind of discrimination as a content… they can never be recognised as part of the Olympic movement," he said.
Fok doesn't want to get into a debate about whether esports is more violent than boxing or wrestling, both sports on the Olympic programme, but knows communication and education may hold the key.
"The red line is different for everyone. We are talking about an issue that is subjective," Fok said.
"We have to work together as a federation, as publishers, as gamers and as a community to define this space and move it forward. I think the Asian Games is the first step.
"I think it is important for us to educate and to help esports develop in a way that is acceptable to different parts of society, different generations and different points of view."
In Jakarta, players from 18 nations will compete across six different games, including League of Legends, which is one of the most popular games in the world with over 27 million players daily.
The last time Riot Games, the developers of LOL, released statistics on player numbers in 2016 they said there were over 100 million players across the world.
There is no denying the popularity of esports and now is the time to show the world it deserves a place at the top table.
(Reporting by Jack Tarrant and Angie Teo; editing by Ed Osmond)
euronews provides breaking news articles from reuters as a service to its readers, but does not edit the articles it publishes. Articles appear on euronews.com for a limited time.