Amid praise for Trump, North Korea doubles down on criticism of Japan
Comments
By Reuters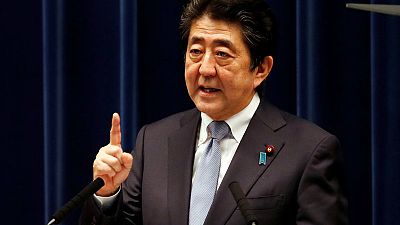 -
By Josh Smith
SEOUL (Reuters) – In North Korea, Japan appears to have replaced the United States as the most vilified imperialist enemy, with state media deriding Prime Minister Shinzo Abe's government as a "cult" bent on derailing Pyongyang's diplomatic outreach.
North Korea's blistering broadsides against Japan are nothing new, given its position as a hated former colonial power and a key player in international efforts to punish Pyongyang with sanctions over its pursuit of nuclear weapons.
But Pyongyang's continued jabs at Tokyo contrast a recent easing in explicit criticism of the historically "imperialist aggressor", the United States.
North Korea spent most of last year calling U.S. President Donald Trump names such as a "mentally deranged U.S. dotard" and "loser", and has begun to complain again about Washington's insistence on denuclearisation.
But since Trump's June summit with North Korean leader Kim Jong Un, North Korea's top state-run newspaper has praised the U.S. president's "will and decision" to have the "historic" meeting. Many pieces of anti-American propaganda have also disappeared from Pyongyang's streets.
Abe has earned no such love.
The same state newspaper recently called the Japanese prime minister a "kingpin of corruption … and a crooked politician" who has "done only evil deeds since he took power".
Japan has been sceptical of North Korea's diplomatic charm offensive, which has led to summits with Trump, as well as leaders of South Korea and China.
Trump hailed the summit in Singapore as a success and even went as far as to declare the nuclear threat from North Korea over, but Pyongyang has given no indication it is willing abandon its arsenal unilaterally.
Tokyo is also pushing hard to resolve the sensitive issue of Japanese abducted by North Korea. North Korea admitted in 2002 it had kidnapped 13 Japanese in the 1970s and 1980s to train as spies, and five of them returned to Japan. Tokyo suspects that hundreds more may have been taken.
Abe's government has floated the idea of a meeting with Kim to discuss abductions and other issues but seems to have made little progress.
Japan's "isolation" amid the engagement with Pyongyang has been a central theme in North Korean state media, which has derided Japan as an "old phonograph record" spouting "gibberish" and repeatedly ridiculed Tokyo's "disgrace and shame" at being left on the sidelines of diplomatic efforts.
"It seems Japan is indifferent to the world's advice to keep up its policy with the changed situation and the changed trend," said one commentary released by the KCNA news agency earlier this month.
"It is ridiculous that Japan still trumpets about time-worn 'threat' at a time when a new era of peace settles on the Korean peninsula and in the region," another KCNA dispatch said at the end of July. "Japan would be well advised to think of a way to join in the trend of the times."
After speaking with Trump by phone on Wednesday, Abe said Tokyo and Washington are in "complete agreement regarding the policy of realizing complete denuclearisation of the Korean peninsula," and said he raised the abductees as the issue "most important of all."
KCNA has called Japan's focus on the abduction issue, denuclearisation, and continued sanctions "clear proof of Japan's strong attachment to the moves to harass peace… out of an intention to tarnish the positive atmosphere on the Korean peninsula."
Japan is unlikely to avoid North Korean ire any time soon, analysts say.
The repeated salvos of rhetoric highlight North Korea's continued need for an enemy to target, as well as possible hopes to push Tokyo into providing cash as part of economic incentives to get North Korea to limit its weapons programme, said Alexis Dudden, a Korea and Japan expert at the University of Connecticut.
Abe's hardline stance and cool relations with South Korean President Moon Jae-in, as well as Japan's occupation of the Korean peninsula as a colonial power makes Japan a "soft target" for Pyongyang that is unlikely to upset many in South Korea, Dudden said. Japan ruled Korea for 35 years ending with its defeat in World War II.
"By keeping Japanese colonial era atrocities in play, North Korea is able to be 'Korean' together with South Korea at a time that their separate ongoing negotiations require a common baseline," she said.
"Continuing to 'hate' America – long the major focus – would be out of step because President Moon has made clear that he is working together with the United States in his efforts."
(Additional reporting by Linda Sieg in Tokyo. Editing by Lincoln Feast.)