Venezuelan streets quieter than usual after opposition strike call
Comments
By Reuters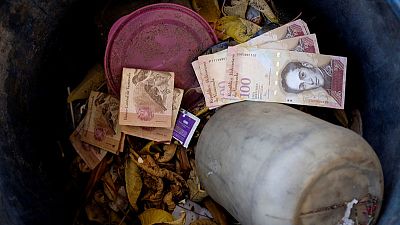 -
By Vivian Sequera and Mayela Armas
CARACAS (Reuters) – Venezuela's streets were quieter than normal on Tuesday, but some businesses remained open despite an opposition call for a national strike to protest economic measures announced by socialist President Nicolas Maduro.
The OPEC nation on Monday cut five zeros from prices in response to hyperinflation as part of a broad set of measures meant to address an economic crisis, including pegging the country's currency to an obscure state-backed cryptocurrency.
Critics slammed the plan as inadequate in the face of inflation that topped 82,000 percent in July and called for a one-day halt of commercial activities.
Opposition leader Andres Velasquez estimated that 60 percent of the population had joined the national strike.
"All of us have lost (with these measures), and we are falling into an abyss," Velasquez said in a news conference. "If we don't stand firm against the regime, we're going to have this regime forever, which is their plan."
The Information Ministry did not immediately reply to a request for comment.
Maduro declared Monday a national holiday for banks and consumers to get accustomed to the new pricing scheme, under which items that cost 1,000,000 bolivars last week were remarked with price tags of 10 bolivars.
Fedecamaras, the country's main business group, slammed the proposal as "incoherent," noting that a 3,000 percent minimum wage increase that is part of the plan would make it impossible for businesses to keep their doors open.
But the group did not take a position on the opposition-led strike, saying individual members should choose on their own.
FEWWORKERS, FEWPRODUCTS
Many shops were closed in downtown Caracas, and some stands were closed at a major produce market called Quinta Crespo. Some employees were unable to arrive because they could not find public transportation, which has been in steady decline for months due to lack of auto parts.
"My employees didn't arrive, and the distributors didn't offer much because there is a lot of uncertainty about salaries and prices," said Jesus Rojas, 36, who runs a fruit stand at the market.
Businesses were largely closed in the second-largest city, Maracaibo, which has suffered months of prolonged power outages, as well as in the smaller cities of Punto Fijo and Valencia. Banks had long lines outside as people sought to withdraw the newly released bills.
The ruling Socialist Party announced a march on Tuesday morning to support Maduro's economic measures that was scheduled to end with a rally at the presidential palace.
The collapse of the country's once-booming economy has fuelled hunger and disease, spurring an exodus of migrants to nearby countries.
In recent days, Ecuador and Peru tightened visa requirements for Venezuelans and violence drove hundreds of Venezuelan migrants back across the border with Brazil.
The discontent has also spread to the military, as soldiers struggle to get enough food and many desert by leaving the country.
Two high-ranking military officers were arrested this month for alleged involvement in drone explosions during a speech by Maduro, who called it an assassination attempt.
Maduro says his government is the victim of an "economic war" led by the opposition with the help of Washington, which last year levied several rounds of sanctions against his government and high-ranking officials.
(Additional reporting by Tibisay Romero in Valencia and Mircely Guanpia in Punto Fijo; Editing by Paul Simao and Jonathan Oatis)