Kazakh Olympic swimming champion skips pet event after injury
Comments
By Reuters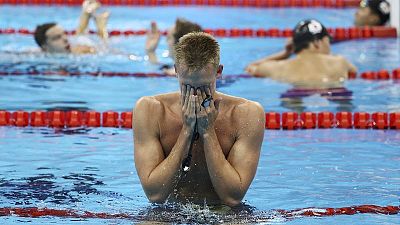 -
By Nick Mulvenney
JAKARTA (Reuters) – Kazakhstan's Olympic champion Dmitriy Balandin skipped the men's 200 metres breaststroke at the Asian Games on Tuesday for fear of aggravating a recent injury but he will compete in other events, a team spokesman said.
The 23-year-old swept all three breaststroke titles at the 2014 Asian Games in Incheon before making history by giving his country its first Olympic swimming champion in the 200m in Rio.
An injury to his lower leg has scuppered his chance of defending all three of his titles in Jakarta, however.
"He had a recent injury and a recent recovery so his coach decided not to risk his health in the 200," the spokesman told Reuters.
"Dima will swim in other events, the 50m, the 100m and probably the medley relay," he added.
Balandin came out of nowhere to stun the Asian swimming world with his trio of titles as a teenager in South Korea in 2014, two of them achieved in Games' record times.
A bigger shock was to come on his Olympic debut in Brazil, where, swimming in lane eight after qualifying as the slowest finalist, he beat American Josh Prenot by seven hundredths of a second to win the 200 breaststroke gold.
Balandin has suffered a nose-dive in form since his Rio triumph made him a national hero in his homeland, though, and failed to reach the final of any of the breaststroke events at last year's world championships in Hungary.
His absence means one less thing to worry about for Japanese duo Ippei Watanabe and Yasuhiro Koseki, who were first and third fastest in the 200 heats and are expected to fight it out for the title on Tuesday night.
The Asian Games 100m breaststroke is on Wednesday with Balandin scheduled to compete in heat four, while the 50m takes place on Friday with the Kazakh on the start list for the fifth and final heat.
(Editing by Ian Ransom)