Asian Games: From the oldest to the richest - Bridge players aim to make their mark
Comments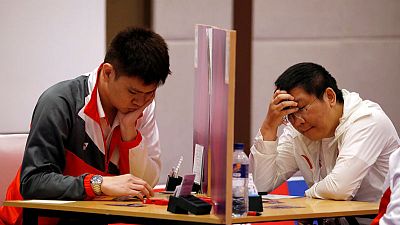 -
By Jessica Damiana
JAKARTA (Reuters) – As athletes sweated and strained on the track, field and in the pool, a more cerebral and certainly more sedentary set of competitors got down to business at the Asian Games on Tuesday.
The venerable card game bridge made its debut at the world's second-biggest multi-sport event after the Olympics, with over 200 competitors from across Asia taking part.
With his walking cane lying next to his seat at one of 17 tables in the ballroom of a Jakarta convention centre, 85-year-old Filipino Kong Te Yang faced off in one of the opening games against a pair from Pakistan.
Unlike in other events where noise from the crowd is positively encouraged, spectators are generally excluded from watching the bridge competition so barely a pin drop could be heard as "action" got underway.
Yang, who is the oldest competitor at the Games, laughed when asked whether bridge should be counted as a sport.
"We can hardly be compared to Olympians, whose motto is 'faster, higher, and stronger'," said Yang.
"We have to look beyond the limits of our physical strengths.
"Bridge is actually very mathematical … You must know the probability, you must know psychology, and you must have an open mind at all times."
Yang expected tough competition from hosts Indonesia, as well as from China, India, Pakistan, and "the younger team of Singapore", which includes 22-year-old Kenneth Chan.
"The game of bridge is very much like life, with all its uncertainties," he said, adding that even when you thought you had mastered many techniques you realised you had not learned enough.
OLYMPICDREAM
With the host of the Games allowed to pick a number of additional sports, one of the driving forces behind including bridge was 78-year-old Indonesian billionaire Michael Bambang Hartono.
Hartono, who spent years lobbying the Olympic Council of Asia (OCA), said OCA President Sheikh Ahmed Al-Fahad Al-Ahmed Al-Sabah was at first resistant to including bridge due to concerns the game may be too akin to gambling.
"After we explained that bridge is also played in Islamic countries like Indonesia and has its own world championship, he accepted," said Hartono, who added that he hoped to bag at least one gold medal to help Indonesia reach its overall target of 16.
Hartono, who heads the South East Asia Bridge Federation, is better known as head of tobacco conglomerate Djarum Group.
Along with his brother Robert Budi, he was named Indonesia's richest man by Forbes magazine in 2017 with wealth of $32.3 billion (£25.3 billion) and also ranked the 75th wealthiest in the world.
The tycoon, who has been playing the game since the age of six, said the requirements for bridge were not so different from his day job.
"The decision making process is the same in bridge and business. You gather information and data, make a conclusion, and plan a strategy," he said, adding that he can spend up to eight to 10 hours playing a single game.
If Hartono had his way, bridge would one day be played at the Olympics – an ambition that might not be as far fetched as it sounds even if a bid to gain inclusion at the 2020 Tokyo Games failed.
The International Olympic Committee has recognised the World Bridge Federation as a 'sport organisation' and is also looking seriously at bringing esports, an exhibition sport at these Asian Games, into the fold.
Esports will debut as a medal sport at the 2022 Asian Games in Hangzhou, China.
"We dream that bridge will be a competition too at the Olympics," said Hartono. "This is our next fight."
(Writing by Fanny Potkin; Editing by Ed Davies and Peter Rutherford)
euronews provides breaking news articles from reuters as a service to its readers, but does not edit the articles it publishes. Articles appear on euronews.com for a limited time.