Trump says 'nothing to hide' from Special Counsel Mueller
Comments
By Reuters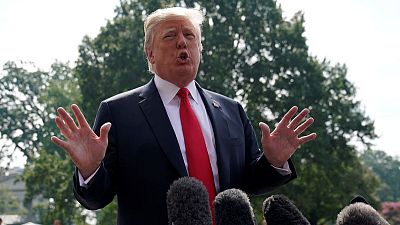 -
WASHINGTON (Reuters) – U.S. President Donald Trump declared Sunday he had "nothing to hide" from the special counsel investigating Russian interference in the 2016 U.S. election, and denied that his top lawyer had turned on him by cooperating with the probe.
Trump, in a series of tweets, denounced the New York Times for a Saturday story saying White House Counsel Don McGahn has cooperated extensively with the special counsel, Robert Mueller. The Times said McGahn had shared detailed accounts about the episodes at the heart of the inquiry into whether President Donald Trump obstructed justice.
"I allowed him and all others to testify – I didn't have to," Trump said in a tweet. Trump said the newspaper made it seem like McGahn had turned on the president – as White House counsel John Dean had in the Watergate investigation of former president Richard Nixon – "when in fact it is just the opposite."
Citing a dozen current and former White House officials and others briefed on the matter, the Times said Saturday that McGahn had shared information, some of which the investigators would not have known about.
On Saturday evening, McGahn's lawyer confirmed the White House counsel had cooperated with Mueller's team. "Mr. McGahn answered the Special Counsel team's questions fulsomely and honestly," William Burck said, explaining the president did not ask McGahn to refrain from discussing any matters.
Also on Saturday, Trump tweeted that he had encouraged McGahn and White House staff to cooperate with investigators.
According to the New York Times, McGahn in at least three voluntary interviews with investigators that totalled 30 hours over the past nine months, described Trump's furor toward the Russia investigation and the ways in which the president urged McGahn to respond to it.
The newspaper reported McGahn's motivation to speak with the special counsel as an unusual move that was in response to a decision by Trump's first team of lawyers to cooperate fully. But it said another motivation was McGahn's fear he could be placed in legal jeopardy because of decisions made in the White House that could be construed as obstruction of justice.
The newspaper said McGahn was also centrally involved in Trump's attempts to fire the special counsel, which investigators might not have discovered without him.
McGahn cautioned to investigators he never saw Trump go beyond his legal authorities.
(Reporting by Susan Cornwell; Editing by Lisa Shumaker)