Jury in Manafort trial asks U.S. judge about 'reasonable doubt'
Comments
By Reuters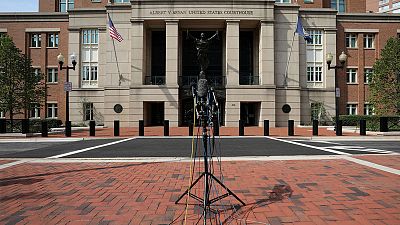 By Karen Freifeld and Nathan Layne
ALEXANDRIA, Va. (Reuters) – The jury in the bank and tax fraud trial of former Trump campaign chairman Paul Manafort ended its first day of deliberations on Thursday without reaching a verdict but with several questions, including how to define "reasonable doubt."
The six men and six women considered the charges against Manafort for around seven hours in the federal courthouse in Alexandria, Virginia. They will resume deliberations Friday morning.
The case is the first to go to trial stemming from Special Counsel Robert Mueller's investigation into Russia's role in the 2016 U.S. election, although the charges largely predate Manafort's five months working on Trump's campaign, including three as chairman.
Before wrapping up their work for the day, the jurors asked U.S. District Judge T.S. Ellis their first questions, including the definition of "reasonable doubt." In a criminal case the jury must find a defendant guilty "beyond a reasonable doubt."
"The government is not required to prove beyond all possible doubt," Ellis said, responding to a note from the jury with the questions. Ellis added that reasonable doubt was "doubt based on reason."
The other questions delved into details of the case. One involved the government's requirement for taxpayers filing a report regarding the existence of a foreign bank account. Manafort is charged with failing to file reports of his overseas accounts to U.S. authorities for four years.
Another question centred on the definition of a "shelf company," a term referring to a type of inactive company, and legal filing requirements "related to income". The last question involved how the list of exhibits matched the indictment.
Defence lawyers saw the questions as a positive sign.
"Overall, a very good day for Mr. Manafort," Manafort lawyer Kevin Downing said at a bank of TV cameras outside the courthouse.
Peter Carr, a spokesman for the prosecution, declined comment.
Jury consultant Roy Futterman cautioned not to read too much into the jurors' first note.
"It's not surprising the defence is given some hope by these questions because it sounds like they're questioning some fundamental things," Futterman said. "It would be a mistake to think this is a sign one way or the other."
Manafort faces five counts of filing false tax returns, four counts of failing to disclose his offshore bank accounts, and nine counts of bank fraud. If convicted on all the charges, he could spend the rest of his life in prison.
Prosecutors offered evidence that Manafort hid $16 million earned as a political consultant for pro-Russian politicians in Ukraine in overseas bank accounts, and used it to pay U.S. vendors for cars, clothes, and real estate without declaring the income on his tax returns.
And when the work in Ukraine dried up, Manafort lied to banks to get more than $20 million in loans to maintain his upscale lifestyle, prosecutors showed during two-weeks of testimony. Closing arguments took place on Wednesday.
The defence called no witnesses, arguing that prosecutors failed to prove their case. Manafort's lawyers have pinned the blame on Rick Gates, his former protege, and others who handled his financial affairs.
Gates was indicted by Mueller but pleaded guilty and testified for the prosecution.
The jurors asked whether someone is required to file the report if they own less than 50 percent of the account, do not have signature authority but control disbursement of funds.
Ellis read the jury the law, which requires U.S. taxpayers with at least $10,000 in a foreign bank account to file a Report of Foreign Bank and Financial Accounts, known as a FBAR, to the Treasury Department.
Despite having millions stashed in 31 overseas bank accounts, Manafort did not file FBARs between 2011 and 2014, prosecutors contend. During the trial Manafort's lawyers raised questions about whether the law was applicable to Manafort.
The jury's question about shelf companies is likely related to Gates' testimony. Gates spoke about shelf companies in Cyprus, entities he said he had been used by Ukrainian businessmen who made payments to Manafort.
Ellis told the jurors to rely on their recollection when it came to the shelf companies.
As a general rule of thumb, jurors are thought to want to wrap up their work by the end of the day on Fridays.
As they were waiting to be called into the courtroom to hear the answers to their questions, however, the jurors could be heard laughing, a sign they may not be in rush to complete their work, Futterman, the jury consultant, said.
"If they're all getting along well and laughing, you may be in for the long haul waiting for this deliberation to end."
(Reporting by Nathan Layne and Karen Freifeld; Additional reporting by Amanda Becker and Sarah N. Lynch; Writing by Will Dunham; Editing by Jonathan Oatis and Grant McCool)