Hungary to stop financing gender studies courses - PM aide
Comments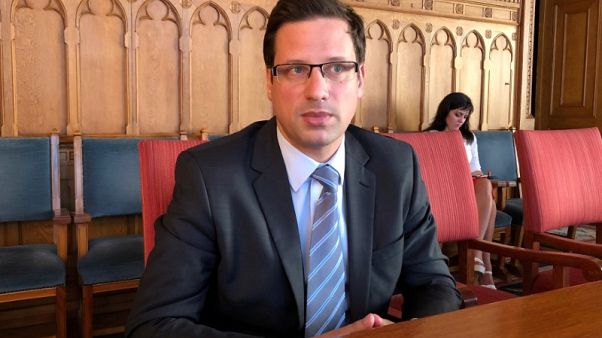 -
BUDAPEST (Reuters) – Hungary's government will stop financing gender studies university courses, Prime Minister Viktor Orban's chief of staff said on Tuesday, marking one of the first concrete steps in a cultural shift signalled last month.
Re-elected in April to a third consecutive term, right-wing nationalist Orban said in July that major cultural and intellectual changes were in the works, adding that his landslide victory was "nothing short of a mandate to build a new era".
Chief of staff Gergely Gulyas cited low enrolment numbers, which he said would be reason enough alone to shut down the courses, but also spelled out the government's ideological opposition at a news conference.
"The Hungarian government is of the clear view that people are born either men or women. They lead their lives the way they think best, but beyond this, the Hungarian state does not wish to spend public funds on education in this area," he said.
Orban's supporters want a shift towards conservative values to end what they call a dominance of leftists and liberals in the arts, science and education.
The move against the gender studies courses is one of the first specific such government policies. Others included a move to reduce the independence of the Hungarian Academy of Sciences in the allocation of public research funding.
Gender studies courses are taught at the state-run university ELTE and Central European University, which are among the top universities in Hungary.
Gulyas said those already enrolled could finish their studies but Budapest would stop financing the courses from the next academic year.
The proposal first surfaced in Hungarian media last week, triggering opposition from the social sciences faculty of ELTE.
"We consider it worrying that the proposal aims to shut down a course dealing with social relations between men and women, gender inequalities as well as issues of family and demographics," Dean Gabor Juhasz said in a statement.
ELTE did not immediately comment on the decision on Tuesday. It could not immediately give a total number of enrolees. Last year it planned to enrol 18 students in its master's programme but only 10 applied, state news agency MTI said.
CEU also declined immediate comment on Tuesday. It issued a statement after the proposal was first aired, saying the school "reaffirms its commitment to academic freedom and rejects any attempt at censoring academic curricula".
CEU said it has 44 students enrolled in a two-year master's programme that offers two degrees, one Hungarian and one American. The Hungarian degrees are now at risk for future enrolees. CEU's other gender studies students and PhD candidates only get U.S. degrees, which are unaffected.
CEU is founded by Hungarian-born U.S. financier George Soros. The government has made the demonisation of Soros, who promotes liberal causes though his charities, a central plank of its ideology.
Pro-government daily Magyar Idok ran an opinion piece hailing the plan.
"Gender-faithful liberals have already caused irreparable harm in the souls of generations growing up in the past decades. We need to fight them without compromise and achieve a complete victory, otherwise they will end up destroying us," sociologist Balint Botond wrote.
(Reporting by Budapest bureau)
euronews provides breaking news articles from reuters as a service to its readers, but does not edit the articles it publishes. Articles appear on euronews.com for a limited time.