Scott 'didn't have it the last couple of holes'
Comments
By Reuters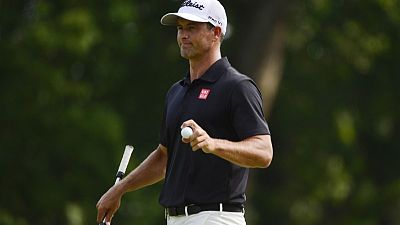 -
By Andrew Both
ST. LOUIS (Reuters) – Adam Scott flirted with becoming only the fourth Australian player with multiple major titles before finishing third behind Brooks Koepka and Tiger Woods at the PGA Championship on Sunday.
Scott clawed into a tie for the lead with five holes left but could not match Koepka's consecutive birdies at the 15th and 16th holes at Bellerive.
"Unfortunately, just didn't have it the last couple of holes," the former world number one said. "If I was critical of myself today, I just didn't drive it up to what I would expect in this kind of situation to win."
He bogeyed the last to shoot three-under-par 67 and finish three strokes behind Koepka's 16-under 264.
Peter Thomson (five British Opens), Greg Norman (two British Opens) and David Graham (U.S. Open and PGA Championship) are the only Australians to win two or more majors.
Eight others, including 2013 Masters champion Scott, have claimed a single major title and the 38-year-old was doubly inspired by fellow Australian pro Jarrod Lyle, who died aged 36 of cancer the day before the tournament started.
Scott, who made a bogey at the opening hole that left him four behind Koepka, took a while to get up a full head of steam, before he made five birdies in seven holes around the turn upon finding his range with his irons and holing some putts.
He tied Koepka for the lead after flagging his tee shot at the par-three 13th and sinking the seven-footer.
But he could not respond to Koepka's birdies at the 15th and 16th holes, and a squandered birdie chance from seven feet at the par-five 17th signalled the end of his chances.
"I think I read it correctly," said Scott of the seven-foot putt that broke sharply across the hole and missed on the low side. "I just don't think I hit it hard enough, and that's a shame.
"I had high hopes today, especially with four or five go being tied with Brooks."
(Editing by Greg Stutchbury)