Euro zone banks hammered for Turkish exposure
Comments
By Reuters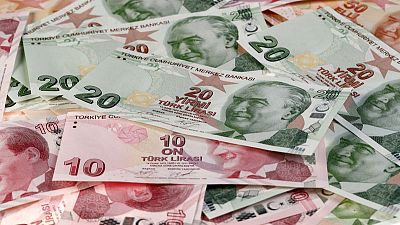 -
By Balazs Koranyi
FRANKFURT (Reuters) – Investors dumped euro zone bank shares on Friday on concerns about their exposure to Turkey as the lira fell to yet another record low with a defiant government showing few signs it is ready to take decisive steps to stabilise the currency.
A widening rift with the United States, its main NATO ally, and President Tayyip Erdogan's grip on monetary policy under a new powerful executive presidency have helped to drive the lira down by more than 40 percent this year, a particular vulnerability for Turkish banks as over a third of their lending is in foreign currencies.
U.S. President Donald Trump said on Friday he had authorised higher tariffs on imports from Turkey, imposing a 20 percent duty on aluminium and 50 percent one on steel, as tensions rose between the two NATO allies over Ankara's detention of an evangelical pastor and other diplomatic issues. [nL1N1V10KN]
The euro zone bank sell-off was also exacerbated by a report in the Financial Times that the European Central Bank is increasingly concerned about some lenders, particularly BBVA <BBVA.MC> of Spain, UniCredit <CRDI.MI> of Italy and BNP Paribas <BNPP.PA> of France as they have some of the largest operations in Turkey among euro zone banks.
The ECB declined to comment. Sources familiar with its work added that a review has been going on for several weeks and this was considered a prudent supervisory practice given the situation. This echoed the FT report, which said that the situation was not yet considered critical.
Shares in BBVA were down 5.7 percent late on Friday, UniCredit was off 6.4 percent and BNP dropped 4.4 percent, all exceeding a 4.3 percent drop in the euro zone bank index <.SX7E>.
Turkey accounted for 373 million euros of BBVA's its first half net attributable profit, 14 percent of the group total, suggesting that it may be the most vulnerable to the country's market turmoil. The bank declined to comment.
UniCredit, whose Turkish unit Yapi Kredi is viewed by Goldman Sachs analysts as the most vulnerable in terms of capital levels, played down its exposure in its recent earnings presentation.
It argued that the country accounted for less than 2 percent of group revenues and a 10 percent fall in the lira would affect its CET1 ratio – capital that must be set aside as a buffer against financial shocks – by only around 2 basis points. It declined to comment on Friday.
However, a report by Credit Suisse said Turkey remained a risk for Italy's biggest bank by assets as the depreciation of the lira could further hit its core capital – which came in lower than expected at the end of June.
The Yapi Kredi stake is valued on the bank's books at $2.5 billion and is currently worth $1.5 billion, Credit Suisse said.
BBVA, which reported a lowly CET 1 ratio of 10.8 percent at the end of the first half, also said a 10 percent slump in the lira would shave 2 basis points off its core capital.
Data from the Bank of International Settlements indicate that banks' exposure to Turkey is about $82 billion in the case of Spain and $17 billion for Italy, relatively minor figures given that top euro zone banks have combined total assets of more than 20 trillion euros.
Much of these exposures are also lira in the balance sheets of local subsidiaries, suggesting that the actual risk to their parents firms is even smaller.
While the lira's plunge could drag down the Turkish economy, the impact on euro zone banks in general is seen as modest, economists said.
"The surge in Turkish inflation, bond yields and the even more dramatic plunge in Turkey's exchange rate in 2018 suggest that the country could now be in danger of heading for a bust," Berenberg economist Carsten Hesse said.
"The impact on euro zone GDP growth would be small," Hesse added. "The total damage from a Turkish recession would be smaller than 0.1 percentage point to the euro zone economy."
Still, the sell-off may not be over after the government struck a defiant tone on Friday even after Trump's move.
Erdogan, who says a shadowy "interest rate lobby" and Western credit ratings agencies are attempting to undermine Turkey's economy, said Turks should exchange their gold and dollars into lira to help the currency.
(Additional reporting by Stephen Jewkes, Helen Reid, Andreas Gonzalez Estebaran, Danilo Masoni, Inti Landauro and Frank Siebelt; Editing by Catherine Evans and David Stamp)