Mexican president-elect asks Ciudad Juarez violence victims to forgive
Comments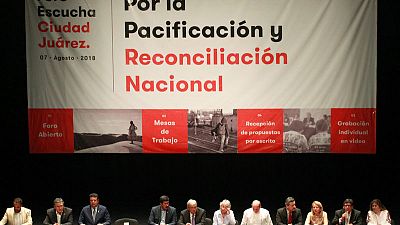 -
By Lizbeth Diaz
CIUDADJUAREZ (Reuters) – Mexican President-elect Andres Manuel Lopez Obrador's launched his first "peace forum" on Tuesday in the northern border town of Ciudad Juarez, aiming to convince victims of the region's entrenched drug war violence to embrace forgiveness.
Rowdy responses to parts of the public meeting underscore debate and sensitivity around the leftist's "transitional justice" proposal, meant to curb tens of thousands of deaths and disappearances stemming from a more than decade-long militarised drug war.
"There's a thirst for justice here, but it's time for unity and reconciliation," Lopez Obrador told a packed auditorium of several hundred people, while others watched on a projector outside.
"I respect the people who say don't forgive or forget. I say, forgive, but don't forget," said the leader, who believes that Mexico's army-led approach to fighting cartels has led to more violence, but has not been clear about how radically he will change strategies.
Lopez Obrador, who takes office on Dec. 1, has said he will only push forward the still-vague plan, which could include truth commissions, special courts, victim reparations and reduced sentences for low-level offenders, with public input and support.
He will hold public forums in several of Mexico's most violent cities, although he has not said how he will measure the public response.
Many audience members cheered his remarks on Tuesday, but others interrupted to call out, "Punishment for the guilty."
Some directed outrage at the governor of Ciudad Juarez's Chihuahua state, Javier Corral, blaming him for a spike in violence.
Olga Sanchez, Lopez Obrador's pick for interior minister, soothed the crowd, promising economic support for victims and recognising the depth of the crisis in the country.
"This is a country of missing people. We know it is full of hidden graves, mass graves and morgues full of unidentified bodies," she said.
Last year marked Mexico's deadliest on record with 31,174 homicides, and 2018 is on track to be worse.
On Friday, eight men and three women were found killed in a home in Ciudad Juarez.
The city's crime rate improved in recent years, but has deteriorated again since 2016.
Outside the auditorium on Tuesday, people held banners bearing the names and photos of people who have disappeared from Ciudad Juarez since the 1990s, when women in particular became targets of killings and kidnappings.
One man waved a placard printed with a man's photo and name above the words, "unpunished killer," while a woman waved a sign that declared, "The blood of our dead cannot be negotiated."
(Reporting by Lizbeth Diaz; Writing by Daina Beth Solomon; Editing by Lisa Shumaker)
Euronews provides articles from reuters as a service to its readers, but does not edit the articles it publishes. Articles appear on euronews.com for a limited time.