Manhunt underway for suspect in murder of President George H. W. Bush's former doctor
Comments
By Phil McCausland with NBC News U.S. News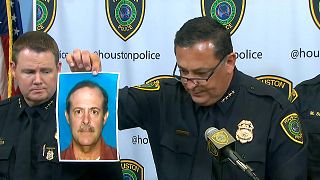 -
The suspected killer of President George H.W. Bush's former cardiologist may have targeted the famed surgeon because his mother died on the operating table two decades ago, police said Wednesday.
A manhunt is underway for Joseph James Pappas, 65, who is suspected of shooting Mark Hausknecht, 65, on July 20, police said. Pappas is armed, dangerous and potentially suicidal, authorities said.
Houston Police Chief Art Acevedo said that authorities have an arrest warrant for Pappas, who is believed to have targeted Hausknecht for the death of the suspected shooter's mother.
"There was a lot of planning that went into this. There was a lot of planning and, sadly, some skill," Acevedo said.
Pappas appears to be suicidal based on text messages that he had sent and the police department's investigation, Acevedo said.
Acevedo said that a tip came into the police chief's office on Tuesday. That tip led them to gaining an arrest warrant.
Police were able to identify Pappas, "thanks to the fact that we have a community that's cooperative, that is a partner, that understands that they have a responsibility to play a huge role in keeping our neighborhoods safe," the chief said.
Acevedo explained that residents close to the shooting examined their home security video, and police were able to obtain an image on Monday that led to Pappas's identification through additional tips.
One tip seems to support the police department's theory that Hausknecht was targeted: Pappas's mother was once Hausknecht's patient and died during surgery more than 20 years ago.
"So it appears that this might be a 20-year-old grudge," Acevedo said.
"We also learned that the suspect had not been heard from by people that know him for over 24 hours and there is a text that he sent someone that said he was going to kill himself," the police chief added.
Once police had been told that Pappas said he intended to kill himself, Houston officers were sent to check on him at his home on Tuesday night. They did not locate him there.
The next morning, they received a search warrant and arrest warrant for murder.
Houston Mayor Sylvester Turner praised the police department for their "top notch investigators working with information provided by the public, from prominent cases to those that escape widespread attention."
"While Houstonians can take comfort in the fact that we believe we know the identity of the suspected shooter, Joseph J. Pappas, he has not yet been located," Turner said in a statement. "I'm asking the public to continue to partner with police. Just as a tip led to his identity, we still need anyone with information on his whereabouts to come forward."
Police previously released surveillance images of the shooting, which took place as Hausknecht rode a bicycle to work, and shared eyewitness testimony of the shooting. The suspected killer was reportedly wearing a baseball hat, sunglasses, a grey warm-up jacket and khaki shorts at the time of the shooting.
Hausknecht was a cardiologist at the Texas Medical Center. Pappas allegedly shot him twice as the doctor was riding his bike to work. According to police, the suspect then pedaled his light colored mountain bike away.
He was announced dead at Ben Taub Hospital, a local trauma center, shortly after he was brought there by emergency services.
Hausknecht treated former President Bush for an irregular heartbeat in 2000 after Bush complained about lightheadedness, according to the Associated Press.
The doctor had been a practicing cardiologist at the Texas Medical Center for more than 30 years.