#MeTwo movement unites immigrants who have suffered abroad
Comments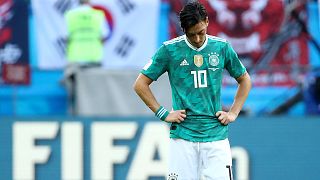 A new movement is sweeping through Twitter: #MeTwo. While this may sound similar to the #MeToo of 2017, this one is a response not to sexual harassment, but rather to the struggle of dealing with dual heritage and racism as an immigrant.
The movement, which was founded by Ali Can, a Kurdish Alawite who fled Turkey for Germany in the 1990s, has garnered over 3,500 tweets in just two days.
#MeTwo was inspired by footballer Mesut Özil, who felt compelled to quit international football over his treatment by fans and the German national association. German-born to parents of Turkish descent, Özil tweeted a statement explaining he has "two hearts," one for each of his roots.
Can, who previously founded the 'concerned citizens' hotline in 2016 to encourage conversations about immigration, decided to demonstrate that Özil's case is by no means unique.
Here are a few of the countless stories on Twitter immigrants are telling about their experiences of racism living in Germany:
"My father worked as a captain on a cargo ship. Court decision in the 80s to deport us from Germany, with the reasoning: "The home of a sailor is the sea". (No joke, I still have the verdict!) #MeTwo"
"Long line at the cash till. I say to the older man behind me, "You can go ahead." - "No, thanks, I prefer to keep my eye on you." #MeTwo"
"My mother got up early every day to cook something special for the school and I never had the heart to tell her how much I was teased because I had nothing "German" with me, but always something Vietnamese #MeTwo"
"When neo-Nazis threaten your mother and the prosecution tells her: "Well, maybe your son shouldn't be so prominent in public". #MeTwo"
"Hessian policemen after I crossed the street in red:
"?"Do you do the same at home?"
?-"in Frankfurt? Yes, all the time..."
"?"You know exactly what I mean, go back to where you came from?"
?-"To Frankfurt?"
? #MeTwo"
"If you contact free apartments via Immoscout & simply don't get an answer, but your German friend receives immediate answers for the same offers. After marriage & change of name she also got no more answer.
Apartment only thanks to paid broker commission. #metwo"