Left-winger Lopez Obrador wins Mexico's presidential election, rivals concede
Comments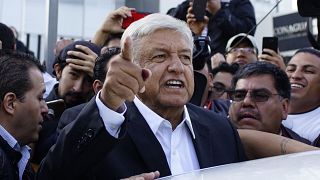 Left-wing candidate Andres Manuel Lopez Obrador looks set to replace the conservative Enrique Pena Nieto as president with at least 53% of votes, according to the electoral authority's official quick count. 
Both of his closest rivals, Jose Antonio Meade and Ricardo Anaya, conceded and congratulated Obrador on his victory.
In a speech after the results were released, the former Mexico City mayor said he would seek a friendly relationship with the United States based on cooperation and development.
Key points from Obrador's address
In a speech made after the unofficial results were announced, Obrador made the following promises:
His government will seek a friendly relationship with the united states based on cooperation and development;

Aims that anyone who migrates from Mexico will do so because they want to, not because they have to;

Eradicating corruption and impunity will be the primary mission of his government;

The best, most humane way to confront violence comes from combating poverty;

He will give preference to the "most humble and forgotten";

He will reduce current spending and raise public investment;

He says there will be no need to raise taxes in real terms or indebt the country;

He will convene on Monday representatives of the United Nations and human rights group to create a "reconciliation and peace plan" for Mexico.
Mexico's election has been marred by some of the worst political violence in decades. More than 130 candidates and political workers have been killed since campaigning began in September.
Millions of ordinary Mexicans are angry at the outgoing government of President Enrique Peña Nieto, particularly over the sluggish economy and widespread corruption and crime.