President Trump "may invite Kim Jong-un to White House"
Comments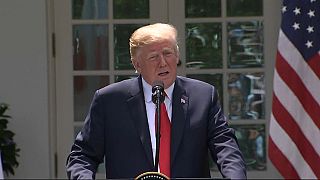 US President Donald Trump has revealed he may invite North Korea's Kim Jong-un to the United States if their upcoming summit goes well.
Trump also said he was prepared to walk away from the summit if necessary.
The pair are meeting in Singapore next Tuesday for the first time.
Trump responded to reporters' questions at a White House press conference; "Certainly, if it goes well; and I think it would be well received; I think he would look at it very favourably, so I think that could happen."
Reporter: "Would it be here at the White House House or at Mar-a-Lago?"
Trump replied; "Maybe we'll start with the White House. What do you think?"
Joining Trump at the podium was Japan's Prime Minister Shinzo Abe.
Tokyo has long been a target of Pyongyang's aggression and a North Korean missile landed in Japanese waters just last year.
North Korea is also holding Japanese abductees that Abe wants released.
Trump made it clear the summit needs to give real results or he'll walk away; "I am totally prepared to walk. It could happen. Maybe it won't be necessary. I hope it won't be necessary to walk because I really believe that Kim Jong-un wants to do something that is going to be great for his people and also great for his family, great for himself."
After years of isolation, the summit is an opportunity for Kim to come in from the cold.
But still in question; what is he ready to concede?
Secretary of State Mike Pompeo said on Thursday the only acceptable outcome is the complete denuclearisation of North Korea.
Whether that's a price Kim is ready to pay will be seen next week in Singapore.