'Hide a spoon in your underwear', charities tell women fearing forced marriage
Comments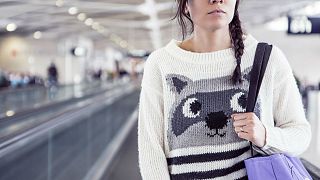 A UK-based charity has pioneered a "spoon-in-the-knickers technique" to help women who think they are being taken abroad for forced marriage or female genital mutilation (FGM).
"By tucking a spoon in your underwear, you will trigger metal detectors and be taken aside somewhere, away from your family, giving you time to speak privately about what's going on," Natasha Rattu, spokeswoman for UK-based human rights charity Karma Nirvana, told Euronews.
Rattu said the group had already helped a number of victims from being forced to travel overseas by advising this technique when they called their helpline.
For those 17 or older
Karma Nirvana sees the technique as a last case scenario and should only be used by those who are 17 or over.
When a victim is younger than 17 in the UK, their family can go with them and advocate on their behalf," said Rattu. "If their family member discovers they have a spoon in their underwear, this could have undesired consequences later."
Why a spoon? It's not a dangerous object, it's metal and won't be too alarming to security.
"We had someone call up our helpline and say they had put a baton in their bag to get the attention of security staff, but this raises a few other security and safety issues," said Rattu.
High season
With the school holidays coming up, the charity warned that young people were at the highest risk of being taken abroad for a forced marriage.
At this time of year, it is easy for parents to slip children under the radar: "They aren't in classrooms, no one is accounting for them on a register," explains Rattu.
"Parents may say you're going abroad to see a sick granny and victims are duped into going."
Airports also have their role to play in combatting the issue — Karma Nirvana worked with security staff at several to raise awareness of what they should do if presented with a person who believes they're being taken abroad for forced marriage or FGM.
Inspired by Karma Nirvana, airport staff in Gothenburg, Sweden's second-largest city, were also trained in how to recognise women that were using the spoon technique.
Activists are encouraging other cities to follow Gothenburg's lead and adopt the spoon initiative to protect girls and women.
The charity didn't initially know whether to share the techniques to the public, as doing so might make it harder for victims to employ them.
Rattu hopes by doing so, the group can raise awareness that being taken abroad for forced marriage or FGM is still a real risk for many young women.
"The spoon campaign has put this issue on the radar of teachers, social workers and other professionals who come into contact with children, who are the most vulnerable, so they can learn more about the signs to look out for," she said.
"Ideally, we want to prevent a victim from even getting to the airport in the first place."